Toll Free No
+180030701070
Adhikar ke Geet
Update: 22-July-2016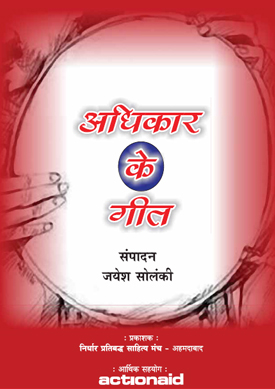 अधिकार के गीत
एक्शनएड सामाजिक-सांस्कृतिक बदलाव की जरुरत को समजता है और सामाजिक-सांस्कृतिक बदलाव में गीत-संगीत की भूमिका को भी समजता है ! हम हमेशा प्रगतिशील गीत-साहित्य, नाटक, फिल्मो को प्रोत्साहन देने तत्पर रहते है ! साथी जयेश सोलंकी ने इसी किताब में बहुत ही सुन्दर गीतों को संकलित किया है ! हर वंचित तबके के गीत इस किताब का हिस्सा है ! इस तरह यह किताब में विविधता है !
SUBSCRIBE TO OUR NEWSLETTER
* Mandatory fields

My ActionAid page
My ActionAid is an interactive space created exclusively for ActionAid donors to express themselves, to get in touch with us , to be a part of our campaigns and to trace their journey with the ActionAid family!