Toll Free No
+180030701070
Mental Health Illness in the Valley
Update: 12-July-2016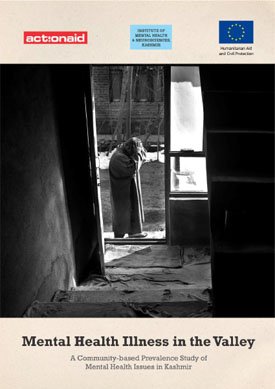 A Community-based Prevalence Study of Mental Health Issues in Kashmir
This study was undertaken by the Institute of Mental Health and Neurosciences (IMHANS), Kashmir, and was commissioned by ActionAid Association with the support of Directorate-General for Humanitarian Aid and Civil Protection (ECHO). The report provides a rich analysis of the mental health issues in the Valley. It has also come up with useful recommendations for the state government to consider and has enlisted a number of areas which needs further research and exploration. Given the alarming levels of mental health disorders in the Valley, it is important that the Government initiates some of the comprehensive, community based and sustainable measures to address mental health illness without any further delay. Additionally, the situation also demands the involvement of many NGOs to increase awareness, improve access to services, help people to access food and livelihood entitlements, undertake advocacy, provide counselling, etc.
SUBSCRIBE TO OUR NEWSLETTER
* Mandatory fields

My ActionAid page
My ActionAid is an interactive space created exclusively for ActionAid donors to express themselves, to get in touch with us , to be a part of our campaigns and to trace their journey with the ActionAid family!