Toll Free No
+180030701070
Domestic workers securing rights
Published on: Tuesday, 31st July 2018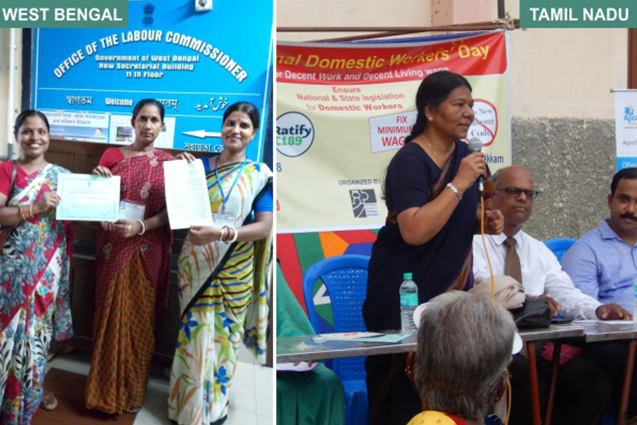 The untiring efforts of PaschimBangoGrihoParicharikaSamity (PGPS), a state-level domestic workers' collective, finally paid off as it was granted trade union status by the Government of West Bengal. PGPS was set up in 2015 with support from Sristy for Human Society, Society for People's Awareness and our West Bengal Regional Office, and since then has been raising issues related to empowering domestic workers, their recognition as labour, and their right to social protection and regulation of wages and work conditions.
Today, PGPS stands as the first domestic workers' trade union of West Bengal. To celebrate their success, and to commemorate International Domestic Workers' Day (June 16), nearly 2,600 domestic workers from across West Bengal gathered in Kolkata on June 22 for a walkathon followed by a meeting with all stakeholders.
In Chennai (Tamil Nadu), a meeting with more than 300 domestic workers was organized to discuss issues of concern. This was done in collaboration with the National Domestic Workers' Movement (NDWM) and our Tamil Nadu Regional Office. Ms KannagiPackianathan, Chairperson, Tamil Nadu State Commission for Women, participating as the chief guest, assured the gathering that her office would always be open to engaging with them in redressing their grievances. Ms.Packianathan urged domestic workers to make the best use of the various government schemes available. She also distributed certificates to women who had successfully completed skill-training in housekeeping, jointly organized by NDWM, Apollo Medskills and ActionAid.
ActionAid India engages with the issue of domestic work across the country including the states of Andhra Pradesh, Delhi, Karnataka, Madhya Pradesh, Odisha, Punjab, Telangana and West Bengal.
SUBSCRIBE TO OUR NEWSLETTER
* Mandatory fields

My ActionAid page
My ActionAid is an interactive space created exclusively for ActionAid donors to express themselves, to get in touch with us , to be a part of our campaigns and to trace their journey with the ActionAid family!