Toll Free No
+180030701070
More than 10,000 children go to Child Friendly Spaces in Jammu & Kashmir
Published on: Saturday, 19th May 2018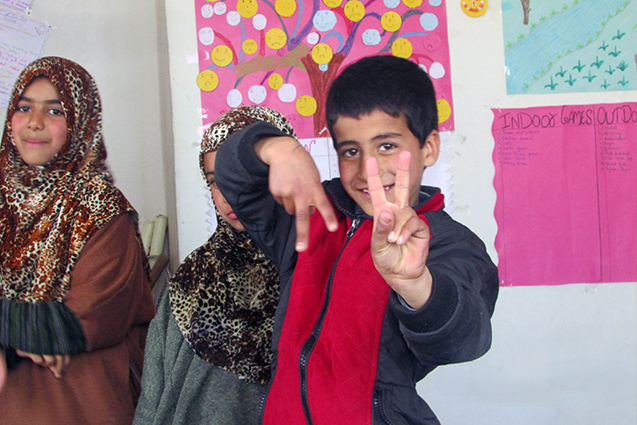 "Hayan had always been a difficult child, generally irritable and uncooperative. I was worried that as he grew older, he might turn ill-tempered and aggressive. However, upon joining the Child Friendly Space (CFS), he started changing and has become a much better person," says the 8-year old Hayan's mother, with a sense of relief noticeable in her tone. In fact, over the last few months, Hayan hasn't missed any session at the centre; he is the head boy of CFS, Palipora in Srinagar. "Active participation in the various CFS activities has improved Hayan's concentration levels and has made him calmer, which is a very positive behavioural change," the local community mobiliser testifies.
Since 2017, ActionAid India has been running CFSs in Jammu & Kashmir, and currently, we run 68 CFSs* in villages across Srinagar, Budgam, Pulwama, Anantnag and Shopian districts. This UNICEF-supported project aims at ensuring community-based protection of children, and promoting their participation in their family and community settings. Children in these communities have lost their childhood and safe spaces of socialisation owing to the current situation in the state. The CFSs are run for 3 days in a week in the community-based spaces and one day in the local school. The CFS provides a safe community-based environment to children where they participate in a variety of activities including sports, craft, drawing and painting. The CFS provides an opportunity for peer socialization and peer sharing, and these safe spaces are also used as a platform to address the deeper issues of child protection including psycho-social issues, school drop-outs and adolescent health. More than 10,000 children* are currently enrolled in the Child Friendly Spaces, with nearly 50% participation of girls.
"Happy to visit #ChildFriendlySpaces in Aglar where children of all ages and abilities are having fun as they learn important life skills, while their mothers are assured of their safety! Thanks @ActionAidIndia Kashmir Team! @UNICEFIndia," wrote Dr. Yasmin Ali Haque, UNICEF Representative in India, in a recent tweet.
*Data as of April 30, 2018
SUBSCRIBE TO OUR NEWSLETTER
* Mandatory fields

My ActionAid page
My ActionAid is an interactive space created exclusively for ActionAid donors to express themselves, to get in touch with us , to be a part of our campaigns and to trace their journey with the ActionAid family!