Help Us Support COVID-hit families
Donate to Ease the Humanitarian Crisis Caused by the Spread of Corona Virus
India has been under lock down since the 24th of March 2020, to break the spread of the novel SARS-CoV-2, also called the Corona virus. ActionAid Association (AAA) has rigorously responded to the crisis, reaching out to the most vulnerable communities. As we slowly emerge from the lock down, we need to ensure long term food security and public health and re-build people's livelihood.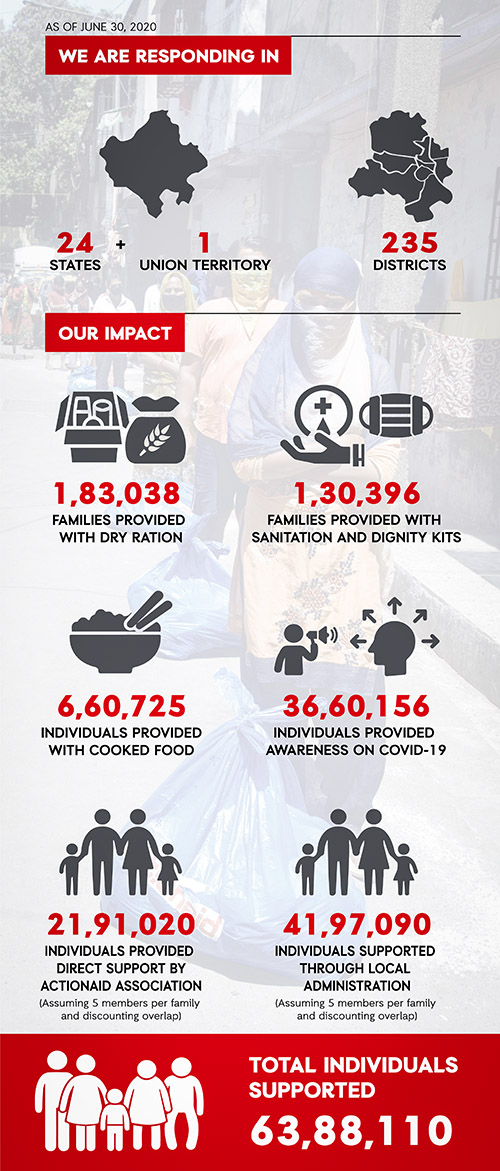 Why ActionAid?
Over 30 years of experience in responding to emergency situations.
Collaborations with government and administrations at all levels to strengthen overall relief efforts. (Read more on our policy agenda for a People Focussed COVID Response )
Vast network of allies, partners, and volunteers on the ground
Accountability, transparency and equitable relief planning
Active participation of most marginalised groups in relief activities, who are the focus of our relief efforts. (Read more on the impact of COVID-19 on vulnerable groups in our Series Isolate. Don't Abandon )
We are the trusted partner in change for hundreds of donors and insititutions.
We are being cautious.
Social Distancing during distribution of relief material.
Using protective gear and regularly disinfecting surfaces and hands during distributions.
Delivering supplies to at-risk people at their house .
PLEASE DONATE NOW!
All Donations to ActionAid Association are 50% tax exempt u/s 80G of IT Act 1961.
For any queries or questions, please call any of the numbers below:
Dipali Sharma : +91 9873084993 (Delhi)
Avinash Sapru : +91 9811314654 (Delhi)
or email us at fundindia@actionaid.org.
Donate through bank transfer
Account Name
ACTIONAID ASSOCIATION
Bank Name
Axis Bank Ltd
Branch Name
Bangalore (KT)
Account Number
009010101455298
Address
No 9, M G Road, Block A, Bengaluru,
Karnataka 560001
RTGS/NEFT/IFSC Code
UTIB0000009
Please mention your name and contact number in the remittance column when you transfer your donation.
ActionAid Association has a long and rich experience of responding to natural disasters and conflicts. We have responded to 35 major emergencies since 1993.