Donate to Ease the Humanitarian Crisis Caused by the Spread of Corona Virus
Our country is in lockdown until 15th of April 2020 to break the alarming spread of the COVID-19, also called the Corona virus. ActionAid Association (AAA) is responding to the crisis and focusing on the vulnerabilities of the marginalized communities it serves. Distribution of dry rations to informal and migrant workers has started in two states, and with your support and in collaboration with the concerned Government departments, AAA is exploring ways to expand distribution of support materials to 15 states.
In February 2020, AAA had advised colleagues in the organization and with allies to take all possible precautions to not become transmitters of the disease and to spread awareness amongst communities we work with. While following shutdown protocols, AAA has set up a core emergency response team to respond to the challenges faced by informal workers in urban areas and landless agricultural labour and small farmers in rural areas.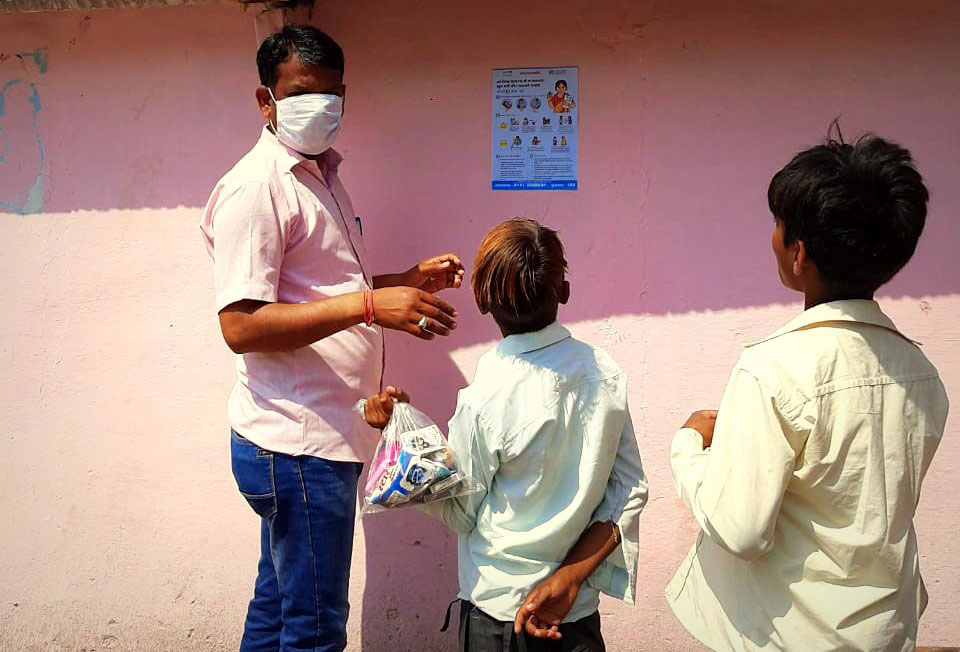 Impact of the COVID-19 crisis
The International Labour Organization (ILO) and the United Nations Conference on Trade and Development (UNCTAD), have shared about the economic impact expected. ILO estimates that COVID-19 will destroy up to 25 million jobs and UNCTAD has said that it will cost the global economy between $1 to $2 trillion. Even when the pandemic had affected only 30 people in India in early March, UNCTAD said the trade impact for the country could be about $348 million. As the whole country implement complete lockdown to fight the COVID-19 pandemic, the corona virus' impact on vulnerable communities with a sizeable unorganised sector workforce is tremendous. Large sections are staring at joblessness, immediate loss of income and the means of sustenance, as these households depend on daily income. The existing economic slowdown, now worsened by the virus and the necessary lockdown, has affected all sectors. People dependent on the informal economy including domestic workers, barbers, street-hawkers, migrant labourers are now without income and their livelihood is under severe threat. Various state governments in India, have with the lockdown also announced a number of measures and relief to support COVID-19 hit families. But these measures are inadequate in-front of the challenges faced by informal workers in urban and rural areas.
Support ActionAid Association's Response to the COVID-19 Crisis
In times distress ActionAid Association stands in solidarity with the communities we work with, and we are taking measures to help mitigate the risks they face as the pandemic spreads.
What is needed for protecting communities from corona virus is to encourage and enable people to regularly wash hands and follow hygienic practices, which is challenging when the localities and homes where vulnerable communities live in make the practice of "social distancing" impossible. We need to ensure the lockdown, prevents community spread of the "Corona virus". For protecting marginalised communities from COVID-19 , access to hygiene products has to be made and essential supplies need to be made available to households. The unprecedented situation makes it necessary to be helping families of daily wage earners by direct transfer of cash to identified households, and thus support families affected by job loss due to COVID-19.
ActionAid Association is working with various stakeholders, including government agencies, in order to build resilience of the most marginalised communities in the times of this pandemic.
You can donate for protecting poor from the spreadof corona and support poor and marginalised communitiesin this unfolding pandemic by contributing to the COVID-19 response fund to provide for hygiene kits, ration supplies and direct cash transfers for them which would reduce the vulnerability faced by the communities who would be most at risk in case of large-scale community transmission of the virus.
PLEASE DONATE NOW!
All Donations to ActionAid Association are 50% tax exempt u/s 80G of IT Act 1961.
For any queries or questions, please call any of the numbers below:
Dipali Sharma : +91 9873084993 (Delhi)
Avinash Sapru : +91 9811314654 (Delhi)
or email us at fundindia@actionaid.org.
Donate through bank transfer
Account Name
ACTIONAID ASSOCIATION
Bank Name
Axis Bank Ltd
Branch Name
Bangalore (KT)
Account Number
009010101455298
Address
No 9, M G Road, Block A, Bengaluru,
Karnataka 560001
RTGS/NEFT/IFSC Code
UTIB0000009
Please mention your name and contact number in the remittance column when you transfer your donation.
ActionAid Association has a long and rich experience of responding to natural disasters and conflicts. We have responded to 35 major emergencies since 1993.