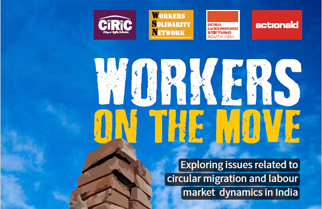 Exploring issues related to circular migration and labour market dynamics in India.
Based on the proceedings of the round table conference on "Improving Conditions of Work and Living for Circular Migrants in India" held at the YMCA Tourist Hostel, New Delhi, on 3-5 June, 2019.
Organized by ActionAid Association, in collaboration with Workers Solidarity Network (WSN) and Citizen's Rights Collective (CiRiC) and supported by Rosa Luxemburg Stiftung (RLS).