Toll Free No
+180030701070
Apna Book – Apni Life Apni Choice
Update: 20-July-2016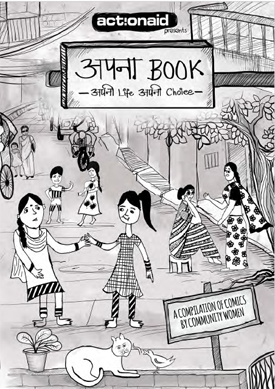 "Apna Book" emerged from Grassroots Comics workshop organised with women from slum clusters across Mumbai and from the Old City in Hyderabad. The graphic stories prepared by participants make up this comic book. The stories were waiting to be told. They are on questions that they want to raise and talk of subjects that are otherwise not discussed with ease. Issues dealt with in the stories range from eve-teasing, sexual and reproductive health, life-choices, domestic violence, right to play for girls, girls education, women in the informal sector, alcoholism, Domestic Violence Act, female foeticide, distribution of housework within the household were some topics covered. Few of these illustrations have been shared in this compilation and we hope it provides you a glimpse into the world the young women inhabit and are actively engaging with to change it for the better.
SUBSCRIBE TO OUR NEWSLETTER
* Mandatory fields

My ActionAid page
My ActionAid is an interactive space created exclusively for ActionAid donors to express themselves, to get in touch with us , to be a part of our campaigns and to trace their journey with the ActionAid family!