Rural communities depend immensely on the forest for their everyday need and livelihood. Estimates suggest that it contributes to nearly 40% of their total annual income. Nearly 23% of India's geography is covered by forests and it is estimated that more than 200 million citizens of this country live in and around this forest land. Directly or indirectly, they depend on this forest for their life, livelihood and cultural identity. However, the issue of forest rights in India has been a major concern since colonisation. 
Forest Rights Act of 2006, to some extent have ensured individual rights over forests but the state of community resource rights is pretty much dismal. This essentially means that while I have individual rights in place, I am still not allowed to access the resources either for my daily subsistence or my livelihood.  What use is the right then? 
Given that most of these areas are resource rich, it is naturally 'in the eye' of many powerful land & forest mafias, and large Corporations. To a great extent, with the alleged connivance of some of the local officials, these guys have been looting these resources, meant for these tribes.  
As I write this, ActionAid India is in the process of conducting a nationwide study on the status of Implementation of Forest Rights Act 2006. The study will be covering 400 villages, 219 Gram Panchayats, 51 blocks, 26 Districts, and 8 states of India having substantial forest coverage and tribal population. 
In many parts of Odisha, disappointed with the local forest departments inefficiency in preserving and ensuring the implementation of the Forest Rights Act, many village communities have been taking suo moto initiative for conservation and management of forest resources. It is in this context that I would like to introduce here, a community initiative of forest conservation by the Kukurimunda villagers in the state of Odisha that I had a chance to witness first hand. 
The right to regenerate protect and manage community forest resources, is pretty much a right mentioned under the Forest Rights Act. A lot of villages around Kukurimunda have been taking community initiatives  to better manage the forest in their area even before the enactment of this ACT. The secretary of Kukurimunda Forest Management Committee, Sri Seshadev Sahoo, recalls how it all began in 1998.
When all the neighbouring villages started protecting their nearby forests, our access to them was restricted. We faced a lot of problems. This forced us to protect and manage the nearby Tahaka jungle.
When Kukurimunda villagers (98 households & 9 different castes) were preparing themselves to carry out this suo-moto take over of the management of the forest, a conflict ensued with the nearby Boden village on the issue of demarcation. The Forest Department had then intervened and around 16 hectors of land was then demarcated for Kukurimunda on the 3rd of November 1998. The Forest Management Committee was also set up during this time. In the initial years, they adopted the tradition of thengapali (rotation of the stick) to guard the forest. Later on, they appointed a full time watchman to guard the community resources in this area. 
In the last 14 years, the Forest Department rarely intervened or supported the villagers in this initiative of protecting the community resources. This despite the fact that the enacted ACT now recognises such community initiatives. However, Kukurimunda villagers were always on their own. But despite all that hardships, things are looking better for the community & the forest that they are managing. It has reached a stage where the forest is not only providing for their day-to-day needs, but is also helping this community to generate revenue. 
Sunaphula Cherkia, a woman from the village, shares that the effective management of Tahaka jungle by this committee has reduced the drudgery of women. Now they no longer have to travel a long distance to collect fuel wood. They are able to give more time to household work and other income generation activities. 
In the last year the village committee has been able to harvest more than six hundred poles and bamboo and by selling it to traditional artisans in nearby villages, earned a substantial revenue for the village development fund. Harvesting such a good amount of timber produce from just 40 acres of limited forest area is a clear reflection of successful management practices.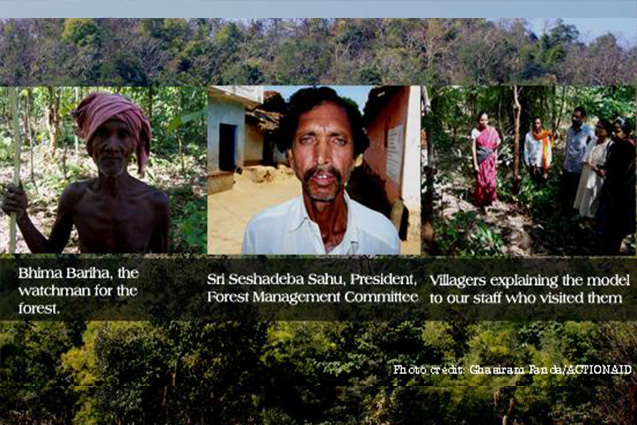 The appointed watchman Bhima Bariha informs that the committee has developed certain norms for better management which include sustainable harvesting of forest resources.
"Nobody is allowed to enter the forest for around four months during the rainy session", he says 
Harvesting of bamboo shoots is totally banned. Those who have requirement of poles or bamboo, apply to the committee. Requests are accepted and approved by the committee depending upon the carrying capacity of the forest. Accordingly poles and bamboo get identified and prices are fixed according to the size of the items. 
"During 2003 – 04 for the first time we sold forest produce. Since then the forest has fulfilled our entire requirement and given us revenue as well. Out of this income we have been able to build roads and meet expenses of community mobilisation for village development issues. Also this has been a good source for us to meet the expenses of village festivals. At present the villagers have Rs. 66,000/- in the bank account, a no mean achievement!" – says Sri Sahoo, the Secretary of the committee. 
Enactment of the Forest Rights Act, 2006 ensured ownership rights over bamboo as minor forest produce. However after five years of implementation of the Act it remains a distant dream for many of the forest dwelling communities. On the other hand the villagers of Kukurimunda have established a clear cut ownership not only over bamboo but on timbers too. This could happen only because of the courage and commitment of the villagers. The fact that they have successfully managed the forest resources with their traditional knowledge and are able to market forest produces has left many dumbfounded. One of the active members of the village, Sri Harekrushna Bariha proudly says;
"It's a proud feeling to finally be an owner of our own forests. One doesn't have to live under any shadow of fear of being accused as a thief anymore"  
Ensured ownership can bring sustainability and increased self dependency which ultimately strengthens the village economy as demonstrated by the villagers of Kukurimunda.
***************************************************************
(You can contact the author at ghasiram.panda@actionaid.org)
Edited by: Abhilash B