Sashi Jani, 65, at her house damaged in the cyclone in Ganjam district of Odisha  Photo: Srikanth Kolari/ActionAid
Cyclone Phailin which hit coastal Odisha on 9th October, 2013 caused huge destruction of shelter and livelihood in Ganjam district, while the subsequent flooding triggered by the heavy rainfall that followed the cyclone left a trail of devastation in Ganjam, Puri, Mayurbhanj, Bhadrak and Balasore districts, affecting more than 13,235,981 people and damaging  651,184 hectares of crop land.
ActionAid India and its allies in the affected areas were quick to respond, launching an immediate relief and rehabilitation support to the families affected. ActionAid was also leading a consortium supported by European Union's humanitarian arm –European Civil Protection and Humanitarian Aid Operations (ECHO). The emergency response was carried out in the most affected areas of Ganjam,  Puri and Mayurbhanj districts and on a priority basis it covered vulnerable groups including scheduled castes, scheduled tribes, other backward castes, single women, minorities, people living with HIV, and people with disability.
ActionAid India Response
Our response efforts focused on three major humanitarian sectors such as food and livelihood, shelter and water sanitation and hygiene (WASH) to support the worst affected communities so as to recover from the devastation of cyclone and floods. Our intervention benefitted a total of 12,627 households in four highly affected districts of the state.
Our focus was to help them enhance the community's food security and increase their access to safe, inclusive and disaster resilient shelter. The intervention aimed at ensuring high standards of public health promotion through WASH actions including safe and sufficient drinking water provisioning and safe hygienic living (environment) conditions for the affected communities.
Immediate Response
We started our emergency response in areas where we had long presence of working with community through our allies.  We reached out to the most marginalised and vulnerable groups with immediate relief – dry ration, drinking water and other non-food items such as immediate survival kit, hygiene kit and other household articles.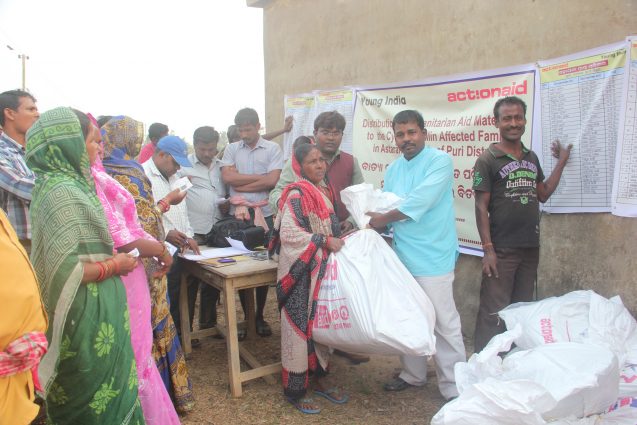 Relief distribution at a cyclone-hit village in Puri district  Photo: ActionAid
Livelihood enhancement support
190 householdswere provided with boats and nets for restoration of their livelihood as fisher folk.
Support for kitchen garden was provided to 1000 households along with provision of millets for cereal consumption.
Exclusive millet farming was supported in 500 acres of land.
ActionAid facilitated convergence with Department of Horticulture (Government of Odhisa) to provide different fruit bearing tree saplings for 3180 households in three districts
58 families were provided with monetary assistance of Rs 24,000 to repair their paan baraja (betel vine fields) destroyed during the cyclone.
A total of 531 families were provided with non-farm support such as goats and chickens to restore their livelihood. In Ganjam and Puri districts,  ActionAid provided chicks as support to 323 households, while 208 families were covered under the goat distribution programme.  Of them 468 families belonged to Scheduled Caste and Scheduled Tribe categories.
739 households were also linked with MGNREGA scheme helping them get work.
400 community members were part of skill building training programmes inmasonry and carpentry on cyclone- and flood-resilient structures.
750 women were part of leadership programme focusing on disaster preparedness and relief measures.
Cash For Work Support
ActionAid India worked in 92 villages of the three most affected districts through cash-for-work programmes to help affected families generate some income to help their lives return to normalcy.  A total of 1403 families benefitted from this programme under which several types of work was carried out. Those included repairing of damaged houses, renovation and excavation of ponds, cleaning of drains, construction of public roads, betel vine repairing, land development, cashew nuts field preparation, repairing of embankment among others.
Shelter support
Shelter support was provided to 213 households. It included construction of new disaster resilient transitional shelters for 73 households and assistance for repairing partially damaged shelters to 140 families.
Community Engagement
Village Level Disaster Response Committees (VLC) were set up to help in identification and selection of beneficiaries support, to monitor project activities,  conduct social audits and serve as a grievance redressal cell. Procurement of materials for the project was routed through the VLCs,  which also served important function in conflict resolution and decision-making. The VLCs  also  helped in liaison with government for accessing entitlements.