Incessant heavy rains in late November and December 2015  triggered a massive flooding  affecting an estimated 1.8 million people living in the districts of Chennai, Cuddalore, Kanchipuram, Tiruvallur and Tuticorin in Tamil Nadu and in the Union Territory of Puducherry.  At least 470 people were killed while more than 40,000 were displaced in the deluge. The floods left a trail of destruction and untold misery and pushed marginalised and vulnerable groups of the society further into abject poverty.
The worst affected people included the urban poor — slum dwellers, the homeless, informal sector labourers; people belonging to Dalit and tribal communities; fisher folk communities; single women, female-headed households and children. The livelihoods of informal sector labourers were seriously affected – these included street vendors, fisherfolk, saltpan workers, daily wage labourers and agricultural workers.
ActionAid India Response
As soon as the flood waters started receding, we began our response by providing immediate relief to the most marginalised communities like Irula tribes, arunthathiyars (Dalit community mostly manual scavengers), single women, and women with disability, transgender community, salt-pan workers and fisher folk communities. In the initial period we were able to reach out to more than 10,105 families within a short span of time.
After conducting a rapid assessment, we attended to the immediate requirement of the community by providing  food,  clothes,  bed sheets, tarpaulins,  solar lanterns, WASH (water, sanitation and hygiene) materials, learning kits for the children. We also organised several medical camps in severely affected areas.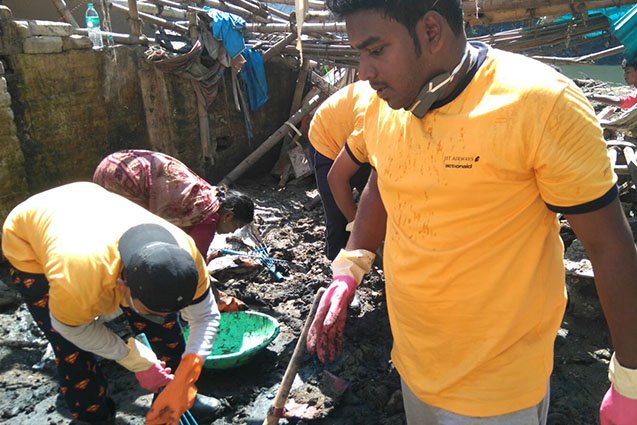 Volunteers from Jet Airways helping clean houses on Appasamy Street, Chennai
Response Strategy
The response plan was discussed, designed by the community and led by women groups. The team made up of allied organisations,  ActionAid colleagues and volunteers, facilitated discussion in a participatory process. The voices and views of the most marginalised and vulnerable were heard and taken into account while emergency response is being carried out. The following strategies enabled implementation of the programs:               
Women's groups were the key implementing and monitoring agencies at the community level. They facilitated the process of program planning, decision making for selection of beneficiaries for all programmes.  At the same time they also did advocacy work with the State Government for effective disaster response programmes.
Transparency and accountability systems were institutionalised at the community level. Transparent systems for procurement and grievance redressal were set up. Procurement committees with the leadership of women were formed. Transparency boards were developed and displayed in the community.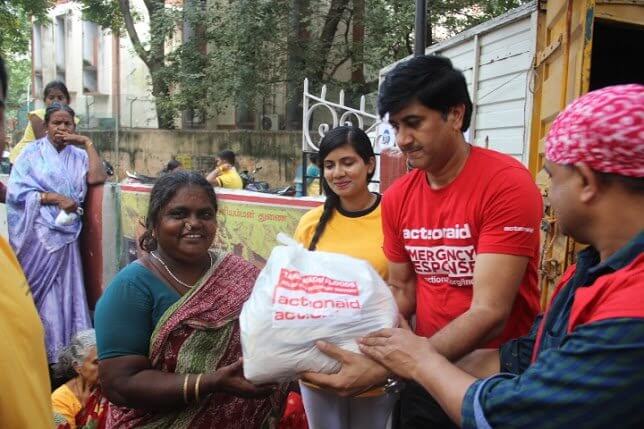 Relief kits are being distributed among flood affected families
Rehabilitation and Recovery Efforts
Following our first phase of response, we moved into our more focused and targeted rehabilitation and recovery efforts, which included repairing and reconstruction of damaged houses  and providing livelihood support to those in need. 
Shelter Support
After consultation with the affected communities, ActionAid India decided to build and repair shelters for hundreds of families whose houses have either been washed away or damaged by the floods. Work is ongoing and as on June 2016, we have been able to provide support for the repair of 679 shelters and have repaired or reconstructed 453 shelters.
Skill training
As part of our efforts to rebuilding lives,  we have also initiated skills training programmes and distribution of aid items to 3,589 women to revitalise business and in case of women with disability to facilitate their mobility and access.
We also helped dozens of transgender people to restore their livelihoods with newer options. A total of 49 trans-women have so far been trained in embroidery, liquid embroidery, mural art, paper products making (bags, folders, note pads, card board files with recycling materials), textile printing as such batik print, block print, tie & dye with naphtha colour techniques.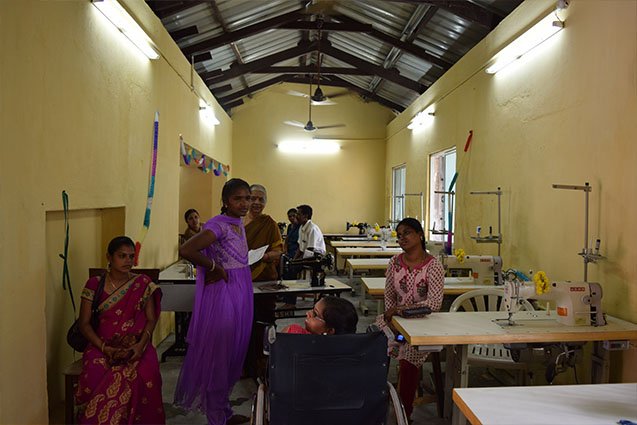 Training center for enhancing livelihoods of flood affected women, set up with Society For Rights of All Women with Disabilities
A total of 300 women with disability have benefited with the provision of items such as hearing aid, crutches, reading materials in braille, wheel chairs, tricycles. They have also gained skills in embroidery, mural art painting, tailoring, paper products, etc.
In the process of providing rehabilitation we enabled women to create a space for themselves by participating in community committees that were set up in every project and made in charge of project implementation, beneficiary selection and project monitoring. A total of 217 women have been active in community committees.
Of the 1090 planned livelihood enhancement activities we were as yet able to implement 982. Our efforts will continue and we are hoping to enhance livelihood opportunities by building earning skills of many more women in the coming days.