There have been huge infrastructural damage caused by the catastrophe. Continuous rains and landslides damaged over 1500 roads and 154 bridges, while over 2,000 houses were destroyed. According to Government reports 18,228 cattle have now been killed and 20,000 hectares of agricultural land was severely damaged.
ActionAid India's Response
ActionAid with its partner organisations, namely JANDESH, ARPAN, Mount Valley Development Association and UJJS. were quick to reach out to the people affected by the disaster with immediate relief assistance. ActionAid focused its intervention in 128 villages spread across four districts – Rudraprayag, Chamoli, Tehri Garhwal and Pithoragarh District.
Followings are the key interventions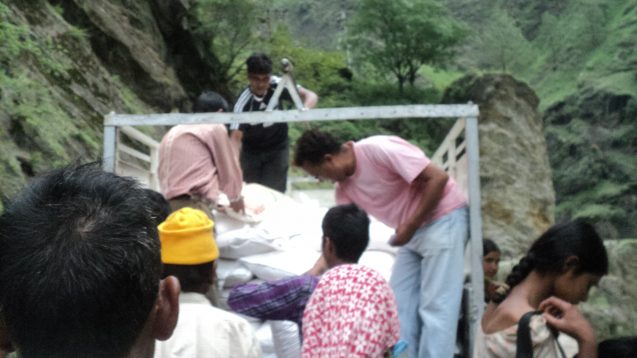 Food and Nutrition Support: Dry ration kits were provided to 1515 families which ensured food and nutritional security of 7575 people for 45 days in 3 districts
Non-food items: Solar lanterns have been provided to 600 families to lighten the shelter and helping around 1600 children for their study.  2400 blankets (2 blankets per family) have been provided to 1200 families, 600 families were provided with kitchen utensils. We also distributed hygiene kits among 1,200 women.
Shelter Support: Tarpaulins and emergency shelters have been provided to 1447 families providing shelter to 7235 individuals.
Women's Protection: 84 community meetings with the 1200 women about trafficking threats, sexual harassment, psycho social care, violence against women and girls have been carried out by local trained community volunteers. Vigil groups have been formed for the protection of women.
Psycho-social care has also been provided to women and children showing manifestations such as sleeplessness, stress disorder and anxiety. Trainings have also been carried out to to strengthen the skill of the field coordinators on psycho-social care.
Health Camps: Health camps have been organized in different villages, where people from surrounding villages also turned up in large numbers. Camps have been organized in three village clusters – Village Chami , Gothi and Ghattabagarh , where in more than 200 women , children and men have benefitted .
Education Support: With timely support from the Share and Care Foundation,  ActionAid was able to reach out to around 1,097 school children and helped them improve and continue their education. School kits were provided to the children who had lost their belongings in the floods in order to equip them to continue their education in 16 worst affected villages.