Toll Free No
+180030701070
Certification Programme- Women in the Driver's Seat

Author:
Posted on: Sunday, 24th March 2019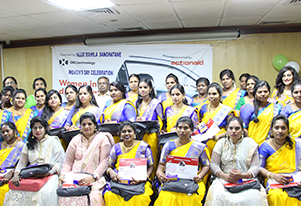 Photo: ActionAid
ActionAid with the CSR support of DXC Technology initiated the "Women in the Driver's Seat" skill building programme to train 60 women living in slums in Jaipur & Bangalore in car driving, to improve their access to decent work challenging the stereotypes to become women cab drivers. Out of 30 women who have been trained in car driving in Banglaore 29 have accessed the DL, 8 out of them are placed with Taxshe, 1 as a private driver and 1 with Pratham Motors. Not limited to driving skill, these women have been empowered with information on legal provisions for women, self-defense, interaction with the KSRTC – Karnataka State Road Transport Corporation, psycho social well-being, leadership training, personal skill development.On 24th March 2019, a certification programme and women's day of Slum Mahila Sanghatane was organized in Bangalore.As part of women's day celebration the trainees Jansi (22 yrs), Indu (22 yrs) & Manjula , shared the women's hardship and contribution to family and society without living wages, social security and with no support of Government as contract street cleaners, construction workers, garment workers, choultry workers, domestic workers, street vendors and other unorganized sector works. Proudly exhibited the culture of emotional and humane exchanges between families in slums and women's role in upholding the way of life in slums on the communitarian principle. They also asserted how without the urban deprived communities the city would stun.The recent batches consisting of 15 members were handed over driving license and 9 who have been placed were honored as part of the certification programme. The video documentation capturing the impact of the project "on the wheels of hope" was released. All the guest speakers advised them to take sky as a limit and Entrepreneurship should be their dream. The women also took the oath to dream high while the family members & friends took oath to stand by them.Sunita one of the trainees who has been placed with Pratham Motors-Maruti Driving School expressed "This opportunity has changed my life completely, am happy that employed with Pratham Motors where I learnt car driving. I would teach best whoever come to learn."The courage of women in breaking the stereotype notion of men only as drivers was applauded by every person in the floor. KT Suresh, ActionAid said "this is the way forward, the women are claiming their rightful political spaces in the city, deprived communities are the city makers and they are the city." Preeti, DXC Technologies, "we shared the success of earlier batch and received applauds from women in USA, Australia, Bulgaria saying that they are inspired by the women".
SUBSCRIBE TO OUR NEWSLETTER
* Mandatory fields

My ActionAid page
My ActionAid is an interactive space created exclusively for ActionAid donors to express themselves, to get in touch with us , to be a part of our campaigns and to trace their journey with the ActionAid family!