Toll Free No
+180030701070
Launching of People's Report on Mahanadi River & "Jala Sathi" in Odisha

Author:
Posted on: Wednesday, 17th April 2019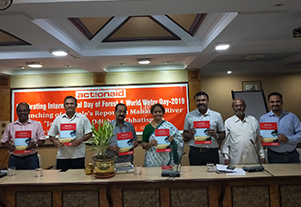 Photo: ActionAid
ActionAid & its allies like Sneha Abhiyan-Jagatsinghpur, Seheda-Jharsuguda, Patang-Sambalpur, Focus Odisha Foundation-Khurda, Abhiyan-Boudh , Sanchar-Nayagarh, Mukti-Cuttack, Rashtriya Yuva Sangathan-Cuttack, Utkal Gandhi Smarak-Cuttack ,Kalpataru-Angul had conducted a study on the issues related to Mahanadi in 10 Districts of Odisha & Chhatisgarh. The study covered 36 villages in 8 districts (Jharsuguda, Sambalpur, Subarnapur, Boudh, Angul, Nayagarh, Cuttack, Jagatsinghpur, Khorda and Puri) of Odisha and 4 villages in 2 districts (Raigarh & Janjagir Champa) of Chhattisgarh were covered under this study. To understand the perspective of the people on the issue of Mahanadi focused group discussion and community consultation was done in the selected study areas. And, In a state level meeting of about 60 community representatives from 12 districts (Nayagarh, Boudh, Angul, Cuttack, Subarnapur, Sambalpur, Jagatsinghpur, Jharsuguda, Puri, Khurda & Ganjam) of Odisha & Jahangir Champa of Chhatisgarh, the study findings was shared for feedback and suggestions. This meeting was attended people from CSO, leaders of people's organization, lawyers and environmentalists including the representatives from Government of Odisha like Prdeeep Jena, Principal Secretary, Water Resource Department, Dr Arabainda Behera, Former Member, Board of Revenue. The above report on Mahanadi entitled "People's Report on Mahanadi" will be released will 18th March 2019 at CYSD, Bhubaneswar (11.00 AM) on the eve of International Day of Forest & World Water Day-2019. Also, on this occasion the "Jal Saathi" volunteer engagement programme on the issue of water will be lunched.
SUBSCRIBE TO OUR NEWSLETTER
* Mandatory fields

My ActionAid page
My ActionAid is an interactive space created exclusively for ActionAid donors to express themselves, to get in touch with us , to be a part of our campaigns and to trace their journey with the ActionAid family!