Toll Free No
+180030701070
Public Hearing on Violation of RTE Act, 2015

Author:
Posted on: Friday, 12th July 2019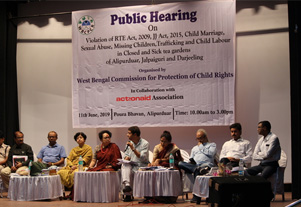 Public Hearing on Child Rights Issues in Bengal's Tea Gardens West Bengal State Commission for Protection of Child Rights and ActionAid AssociationOn 11 June 2019, the West Bengal State Commission for Protection of Child Rights (WBSCPCR), in collaboration with ActionAid Associations West Bengal Region organised a public hearing on children's issues in the tea gardens of North Bengal (which fall in Alipurduar, Darjeeling and Jalpaiguri districts). Ms Ananya Chakrabarti, Chairperson of the WBSCPR, had committed to organising this after meeting with a child leader from a tea garden ActionAid was engaging with under the Devi Charan Chatterjee and Rajyalakshmi Chatterjee Legacy Project, listening to her testimony on the challenges faced by children living in the closed/sick tea estates of North Bengal. The members of WBSCPCR had conducted field visits to the tea gardens on 10 June, and witnessed first-hand the inaccessible roads, broken down schools, and spoke to children suffering from malnutrition, those who survived trafficking and some who were currently in labour.The public hearing was organised in Alipurduar and well attended by members of the district administration including Assistant Labour Commissioners, Additional District Magistrates, Deputy Superintendent of Police, many of whom also sat on the jury/panel. Sandeep Chachra, Executive Director of ActionAid Association also served as a member of the jury, speaking extensively on the need to address the root cause to the deprivation of child rights in the area, the closure of tea gardens leading to a complete socio-economic collapse of the labour eco-system surrounding the tea estates.The day-long hearing of cases from community-based organisations, civil society organisations and members of the community threw sharp light on the critical nature of the threats to children's wellbeing in the region. Salient issues included the following: • The large numbers of missing children. For instance there was a report that 50 children were missing from one garden. • Poor access to schools. The High school was 15 km away, and children had to travel in unsafe transportation to reach school. • Reports of frequent accounts of assault and abuse faced by young girls. • Reports of schools not receiving supplies for mid-day meal supplies for months, and charging development fees. • Reports of children facing linguistic discrimination in schools. • Reports of no access to clean drinking water. The jury presented recommendations on the cases and issues presented to them, asking the district administration to take cognisance and take appropriate actions including linkage to schemes, lobbying respective members of Parliament and members of the Legislative Assembly for funding transportation options. The panel also asked civil society organisations to lend their support and working in an integrated manner with the district administration.One of the present SCPCR members said, "I have seen poverty, but never witnessed such deprivation in my life; the children drink red water completely polluted with iron particles." The jury at the public hearing on child rights issues in West Bengal's tea gardens held at Alirajpur on 11 June 2019 Additional Deputy Superintendent of Police addressing the gathering after hearing cases of missing children Community leaders and members of civil society organizations with Ms Ananya Chakrabarti, Chairperson of the West Bengal State Commission for the Protection of Child Rights
SUBSCRIBE TO OUR NEWSLETTER
* Mandatory fields

My ActionAid page
My ActionAid is an interactive space created exclusively for ActionAid donors to express themselves, to get in touch with us , to be a part of our campaigns and to trace their journey with the ActionAid family!