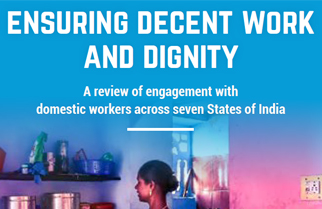 A review of engagement with domestic workers across seven States of India
Globally, over 40 million people are engaged in domestic work and approximately 5 million are in India. The majority of domestic workers are women, and the sector also sees the employment of large numbers of children. Rural distress is forcing people to migrate to cities, and domestic work has emerged as one of the largest sectors within the informal economy. Along with the travails of distress migration, trafficking, unscrupulous middlemen and unregulated placement agencies increase the vulnerability of people entering this sector. The wide prevalence of child labour, risk of sexual harassment and physical abuse, absence of minimum wages, lack of holidays, non-specified working hours, especially for live-in workers and no job security are issues faced by domestic workers.
We are proud of the association with Antakshari Foundation (AF), Centre for Child & Women Development (CCWD), Centre for Integrated Development (CID), Institute of Social Research & Development (ISRD), Mahila Action (MA), Montfort Social Institute (MSI), Rural Literacy & Health Programme (RLHP) and The Calcutta Samaritans, our partners and allies who have collaborated with us on this project. We are grateful to colleagues in the Citizen Rights Collective (CiRiC), the urban knowledge activist hub hosted by ActionAid Association and our Regional Offices looking after our work in Andhra Pradesh & Telangana, Karnataka, Madhya Pradesh, Odisha, Rajasthan & Gujarat and West Bengal. Together we have engaged with domestic workers, raising awareness on rights and entitlements, and issues of social justice. We have built collectives, engaged in skill enhancement and have worked with them to bring dignity and value to their contributions to society and ensuring their social security.