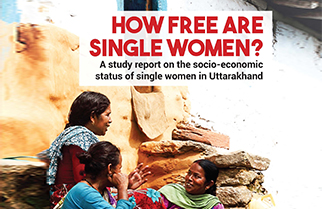 A study report on the socio-economic status of single women in Uttarakhand.
One of ActionAid's key focus areas is the assertion of women and girls' rights as human rights. This is the top priority in our Uttar Pradesh and Uttarakhand Regional Office. During our work in Uttarakhand, we realised that there were significant numbers of single women in the area and also that the state government was in the process of forming a state policy for women. The Uttarakhand State Commission for Women is leading this work in the state and has consulted with various organisations working on the issue of women rights; social activists; community-based groups; academicians and individuals. ActionAid has also contributed to these discussions. The discussions revealed the urgent need to comprehend the issues and challenges facing single women. With this in mind, ActionAid decided to conduct a study in collaboration with the Uttarakhand State Commission for Women.
This study is based on a survey that we conducted in all 13 districts of Uttarakhand with 422 single women from various categories, including women who are widows, divorced, separated, never married, or whose husbands are missing. Focus group discussions (FGDs) with the community and interviews with stakeholders were an important part of the process. The study covers various aspects of the struggle faced by single women, including livelihood, ownership of land and other assets, decision making, access to government schemes and entitlements, participation in village level committees and panchayats, among others. The study also attempts to highlight the dimensions of patriarchy that manifests in how the marital status and social group of a single woman are viewed.