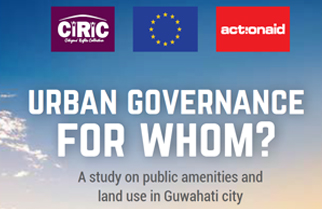 A study on public amenities and land use in Guwahati city
The twenty first century is often seen as a century of cities, urbanity and ecology, and will be defined by the struggles of millions to claim urban spaces and redefine urbanity. Across the globe the influx into urban areas across has seen billion plus people living in squatter settlements, without basic facilities and services, in a life of insecurity, fear and indignity. Urbanization of this kind has posed severe sustainability challenges on all fronts, and has given rise to deep speculations, contests and uncertainties about the fate of cities and urbanity. The urban spectre of majorities of population squeezed in corners in what are called slums and tenements with numeric minorities in large expanses of green and well-planned spaces, raise nightmares of inequalities.
Under the European Commission supported project 'Securing rights and sustainable livelihoods through collective action and education for people dependent on the informal economy in India' the need was felt to study and highlight the kind of space the city of Guwahati in the Northeastern State of Assam, was providing for informal sector workers and the kinds of amenities that are available for the public. We felt the need to locate rights of people within the world of urban planning.