Toll Free No
+180030701070
A Millets' Tiffin Centre set up by women farmers in Turkapally
Published on: Thursday, 28th March 2019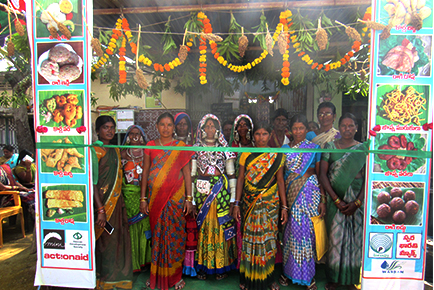 Photo: ActionAid
Pilupu and our Andhra Pradesh & Telangana Regional Office have been supporting women farmers in Yadadri Bhuvanagiri district of Telangana for a few years now, helping them cultivate millets and improve the yield. As part of this intervention, we also facilitated the training of these women in preparing nutritious millet-based snacks, such as laddu and muruku, and provided them marketing support. Besides, we also brought out a booklet containing recipes of various kinds of millet-based food items and widely disseminated it.
Encouraged by the positive response that the sale of these snacks received, a group of women, with support from Pilupu, started a Millets' Tiffin Centre in Turkapally, a small town in the district. The centre was inaugurated on February 6 by Sushri Gongidi Sunitha Mahender Reddy, the local MLA. Serving locally-popular and nutritious snacks such as idli, dosa, upma, kichadi and bajji, the centre is running quite well and doing a good business.
SUBSCRIBE TO OUR NEWSLETTER
* Mandatory fields

My ActionAid page
My ActionAid is an interactive space created exclusively for ActionAid donors to express themselves, to get in touch with us , to be a part of our campaigns and to trace their journey with the ActionAid family!