The Union and State Governments have formulated several policies and schemes to address socio-economic discrimination and inequality in the country, and to ensure inclusive development of Scheduled Castes (SCs), Scheduled Tribes (STs), Other Backward Classes (OBCs), minorities and other marginalized communities. As education is one of the most important drivers for inclusive development, several scholarship schemes are in place to provide financial support to children from marginalized communities and to enable them to complete their education. The number of schemes are few, the support provided is inadequate and accessing the schemes are a major issue.  There is also lack of awareness of the available scholarship schemes.
In the run-up to the deadline for applying for scholarships, ActionAid Association ran #ActForScholarship – a campaign across several states of the country with support from volunteers, activists, community-based organizations and the larger civil society. Our teams of volunteers held meetings with students, teachers and administrative staff of several schools, colleges and universities; displayed informative posters; and distributed pamphlets to orient them on the various scholarship schemes. These trained volunteers also had interactive discussions with students on the process of filling up scholarship applications. Besides, we ran helplines to provide telephonic and online support to students. Listed below is the number of students the campaign has reached out to: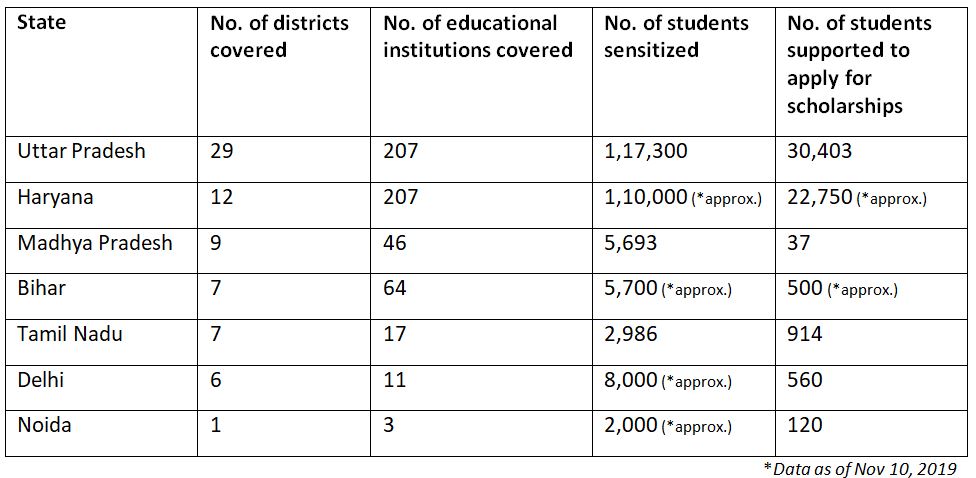 Furthermore, with an objective of highlighting the various issues faced by students in availing scholarships and enabling conversations on gaps in the framing and implementation of related schemes, we also hosted a Tweetathon, #ActForScholarship, on October 30. This social media initiative saw active participation and constructive engagement on wide-ranging issues related to scholarships. You would be pleased to learn that the hashtag #ActForScholarship, also made it to the list of Top 20 trending topics on Twitter that day (at India Trends #16).