Kozhilakudi is a beautiful, remote village located in Kerala. Falling in Mankulam Panchayat, Devikulam block of Idukki district, Kozhilakudi has lush green fields and luxuriant foliage everywhere. The floods and landslides that hit Kerala in 2018 had badly devastated this village comprising 73 families. Roads got blocked. People's houses as well as the community infrastructure saw massive damage. Several households in the village lost their farm produce and other belongings. As part of its disaster response efforts, keeping communities' long-term recovery in mind, ActionAid Association (AAA), with support from Oracle and Charities Aid Foundation (CAF), decided to repair the local anganwadi that had been damaged by the disaster.
For children between three and six years of age, this anganwadi for several years has been providing a platform to learn, to play and make friends – all in a safe and healthy environment. Here, children are introduced to the English and Malayalam alphabet, basic English words, numbers and good hygiene practices. Besides, they are encouraged to play games that aid their cognitive development and foster team spirit. Well, that's not all! The anganwadi also serves them healthy breakfast, lunch and evening snacks.
For several weeks following the floods, the anganwadi was not functional. "The building was damaged, and children had stopped coming to the centre. This was also coming in the way of the health and nutrition of pregnant women, nursing mothers and children under three, who were also being provided nutritious food by the anganwadi," narrates Ruby, the anganwadi teacher. "But now, thanks to ActionAid Association, Oracle and Charities Aid Foundation, the centre is operational again and children are back," adds a smiling Ruby.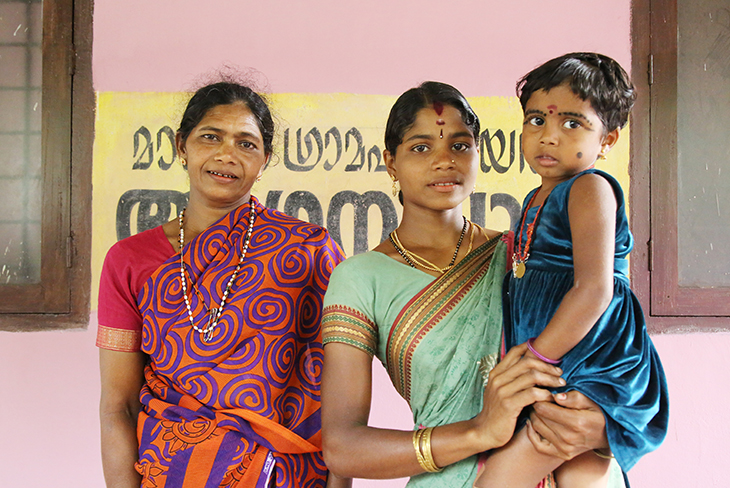 Pushpa (centre) with her daughter and mother-in-law
Pushpa, while picking up her daughter from the anganwadi after work, shares, "The anganwadi is a safe space where I can leave my daughter when I go out for work. And I can rest assured that my daughter and her growth, development and well-being will be efficiently taken care of." The anganwadi has now also become a place where wide-ranging issues pertaining to children and women are openly discussed. "Earlier, our awareness on the rights of children and women was very low. Through discussions at this centre, we are learning about the importance of education and health. Our village has now started to see improved health and hygiene. And women are becoming more and more empowered," adds Pushpa.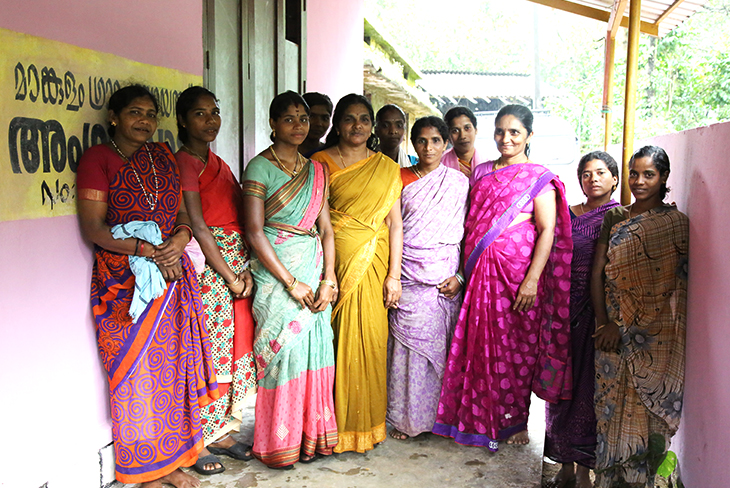 Members of the local women's collective
In addition to supporting the anganwadi repair, AAA, Oracle and CAF reached out to 19 worst-affected families in this village with agricultural support. As part of this intervention, these families were provided diverse saplings and cash support of Rs. 1,200 each, besides a training in organic farming.
In total, AAA, Oracle and CAF have provided 237 families, covering 13 villages of Idukki, with agricultural support, besides supporting the repair of five anganwadis, five schools and one community hall in the district.