The lockdown announced in the country, to spread the spread of COVID-19 infection, amid the growing number of cases has led to an unprecedented situation for all, and especially for the vulnerable sections of society. Migrant workers, daily wage labourers and other marginalized communities have been impacted the most by the response to the pandemic. With support from our partner organisations, volunteers on the field, ActionAid Association has tried to respond swiftly, identifying communities and households in need. In Subarnapur district of Odisha, volunteers have been working with district authorities to spread awareness about the threats posed by COVID-19, share knowledge on issues of hygiene and precautionary measures and facilitate the delivery of ration kits. The stories of Surubudhi Rana and Suryakanti Tandi, throw light on the vulnerabilities faced by rural households and the story of 10 stranded migrant labour from Jharkhand tells us about the vulnerabilities of migrant labour.
In a commendable example of administration and civil society collaboration,  the Subarnapur district administration, ActionAid Association and Research Academy for Rural Enrichment (RARE) have till date reached out to 1,815 such migrant workers in different slums; several of them are from other states like Bihar, Jharkhand, West Bengal and Rajasthan. The administration is facilitating their stay, food and counselling support. These migrant workers have also been provided sanitation kits comprising bathing soap, detergent, washing soap, shampoo, hair oil pouch, comb, toothbrush and toothpaste, besides sanitary napkins for women. The Integrated Child Development Services (ICDS) workers, Accredited Social Health Activists (ASHAs) and Auxiliary Nurse Midwife (ANMs) visited 180 shelters across the district and extended health check-up support to pregnant women.
ActionAid Association along with its partners, including Gramothhan has been striving hard to leverage on its humanitarian aid and relief work to the vulnerable sections of the population, who have been hit hard especially more so during the pandemic. As humanitarian crises have unfolded with the outbreak of COVID-19, ActionAid Association has been providing relief support across the country distributing ration kits, soaps and sanitizers and cloth masks, as well as running community kitchens for providing cooked meals to those in need. The following three stories speaking about the vulnerabilities of households and the little support they need to cope with the unprecedented circumstances of the COVID-19 infection and the necessary lockdown.
How getting her widow pension helped Surubudhi Rana
Surubudhi Rana is a 40-year old widow who lives in Pitamahul village in Birmaharajpur block of Subarnapur district, Odisha. Surubudhi lost her husband four months ago and stays in a hut made out of mud with her two children – her son and daughter. They study in the 10th and 8th standards, respectively. Surubudhi is a daily wage earner and owns a small piece of land, from which she cares for her family.  She had applied for her widow pension, but her application was under process. The sudden enforcement of the lockdown, left Surubudhi without a job, earning and very little food. She is a beneficiary under the National Family Benefit Scheme (NFBS) but the Public Distribution System (PDS) advance for the next three months had not reached her. It was on 8th of April, 2020 when the volunteers of grassroots based civil society organisations, namely Gramothhan and Social Service of Ideal Youth Association (SSIYA) Pariwar, during the campaign against COVID19 facilitated by ActionAid Association and the District Administration, Subarnapur took notice of her woes and the matter was brought to the notice of the District Magistrate and Collector, Subarnapur. The issue was treated with prompt response by the administration. 50 kgs of rice and Rs 1,000, along with cooked food was provided to at her doorstep from the following day onwards.
Responding to the question on how she is managing her family in this time of distress, Surubudhi replied, "When my husband was alive, we could together earn enough by working in the paddy fields owned by others. We own a small piece of land by ourselves, where we produce paddy but it is not sufficient to survive for the entire year. So we are dependent upon PDS. After the death of my husband it's now difficult to manage my family all by myself. If the widow pension gets approved, it would be of great support to me." As of today her statement has changed slightly as her application for widow pension has been approved. Surubudhi is extremely happy with the timely action by the Subarnapur District Administration. Expressing her gratitude she said, "I would to extend my gratitude to the volunteers and the district administration, for taking note of my situation, and providing me with rice, cooked food, and monetary support. My suffering has been reduced to a considerable extent and now, I will be able to have savings for the education of my children, as I will be getting the widow pension," she added.
How Suryakanti Tandi delivered her child
Suryakanti Tandi lives in village Sileikela, Block Belpada in Balangir district, Odisha, and works with her husband in a private owned brick kiln in Gulunda village of Binka Block in Subarnapur district. Suryakanti is a mother of three children, who migrated to Gulunda with her husband Mangal to earn money so to repay a loan taken by them in their hometown.   When the nationwide lockdown was enforced, a pregnant Suryakanti was due for her delivery. This is when Mitrabhanu Mallik, a volunteer appointed as a part of the joint initiative of District Administration, ActionAid Association and Research Academy for Rural Enrichment (RARE), a grassroots based civil society organisation, to provide counselling support to such migrant workers noticed the requirement of Suryakanti. The matter was brought to the knowledge of the Collector and District Magistrate. Necessary instruction was issued and she was brought to the CHC for delivery. Both the mother and child are now in good health.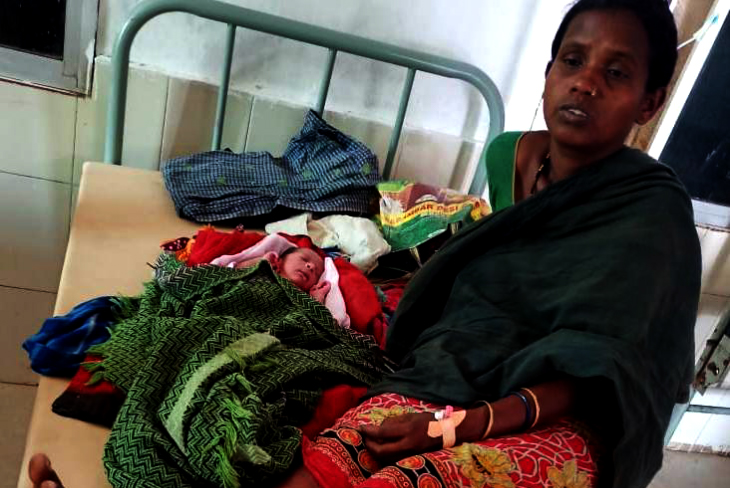 How stranded migrant workers coped with the lockdown   
10 migrant labourers of Jharkhand, who came to Sajguri, a remote village in Durjantaila Grampanchyat of Birmaharajpur Block in Subarnapur district on 23rd of March 2020. As construction workers residing in the same premises, who were supposed to construct a toilet in a school, their work had been stalled because of the sudden announcement of the lockdown. With the unprecedented situation, the lockdown compelled them to stay indoors and survive with whatever little they had with them. As time passed by, their worries intensified for their mere survival without any income or food at the time. They were in huge distress when they ran out of ration and without access to the local shops in the village.
With the rising cases, as the lockdown got more teeth, many villages closed entry for outsiders. Simultaneously, the local weekly market was also shut down and these workers residing in the school premises were hungry for days as they were not allowed to enter into the village neither could they explore any means to procure food items even though they possessed money. At this point, as a part of the campaign to reach out to migrant labourers, volunteers of RARE and ActionAid while visiting this location on 7th of April interacted with them and brought it to the notice of the Collector and District Magistrate, Subarnapur. The District Administration instructed the Sarpanch to provide hot cooked meals immediately which was followed by provision of two cooked meals in the school premises from the following day onwards.
Among the workers, Rajkumar Mandal, extremely satisfied with the quality and quantity of food supplied, expressed his gratitude towards the administration for the swift response by the Panchayat. "It is our responsibility to treat anyone from outside the state as a guest of the district and provide all necessary support. Every possible support will be extended to these workers till they are here," stated Sarpanch Ranjit Kheti.