Toll Free No
+180030701070
Janakamma from Karnataka honoured with Kittur Rani Chennamma Award
Published on: Monday, 29th April 2019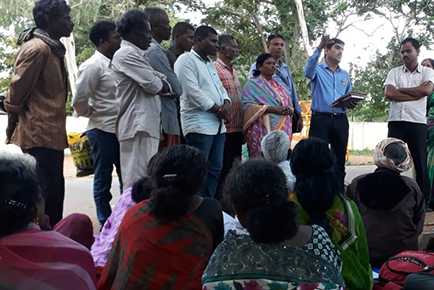 Photo: ActionAid India
We are pleased to share that Janakamma, a 65-year-old tribal woman leader from Periyapatna block of Mysuru district, Karnataka, has been felicitated with the prestigious Kittur Rani Chennamma Award for 2019 by the Government of Karnataka. Belonging to the Jenu Kuruba tribe, Janakamma has been working for the rights of the tribal community for a long time now, including on their land rights and women's property rights. She has also been courageously leading the crusade against child marriage, domestic violence and alcoholism. Through her consistent efforts, 809 tribal families in 16 hamlets of the state's Kodagu district recently received 1800 acres of land under the Forest Rights Act, 2006.
Janakamma is a block-level leader of Karnataka Aranya Moola Budakattu Samudayagala Okkuta (KAMBO), a community-based organization working towards improving the quality of life of tribal communities in eight districts of the state – Kodagu, Mysuru, Udupi, Mangaluru, Shivamogga, Hassan, Chamarajanagar and Chikkamagaluru. The formation of KAMBO has been facilitated by our ally, Samagra Grameena Ashram, and our Karnataka Regional Office.
SUBSCRIBE TO OUR NEWSLETTER
* Mandatory fields

My ActionAid page
My ActionAid is an interactive space created exclusively for ActionAid donors to express themselves, to get in touch with us , to be a part of our campaigns and to trace their journey with the ActionAid family!