Toll Free No
+180030701070
"Now that I have a sweater, I can go to school"
Published on: Tuesday, 26th February 2019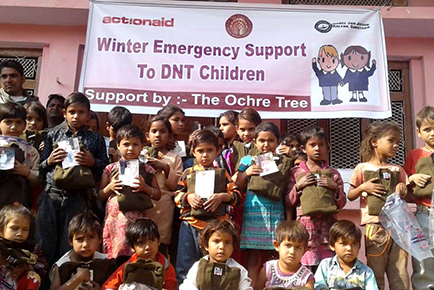 ActionAid India has, for long, been working with Nomadic Tribes and De-Notified Tribes (NT-DNTs) for their rights, entitlements and a life of dignity. During this winter, it was noticed that several children from NT-DNT communities in Rajasthan had stopped going to school because of non-availability of warm clothes. With an objective of addressing this issue, ActionAid India, with support from The Ochre Tree and ARHAT – Centre for PH & AY, distributed warm clothes to 460 children, including 234 girls, from NT-DNT communities. The selection of these children was done in a participatory and transparent manner; the community itself identified the most vulnerable children. Carried out in January, this distribution covered 11 villages from across Alwar, Bharatpur and Tonk districts of the state.
The children were delighted! "Since I did not have any warm clothes, I used to wrap a quilt around myself during winters and stay at home to fight the winter chill. I could not even go to school. Now that I have a sweater, I can go to school," said a happy child. These children have started going to school again; they will now be tracked on a monthly basis to ensure they do not drop out and are able to continue their education.
SUBSCRIBE TO OUR NEWSLETTER
* Mandatory fields

My ActionAid page
My ActionAid is an interactive space created exclusively for ActionAid donors to express themselves, to get in touch with us , to be a part of our campaigns and to trace their journey with the ActionAid family!