Toll Free No
+180030701070
Promoting rights of Dalits and minority communities in Haryana
Published on: Monday, 29th April 2019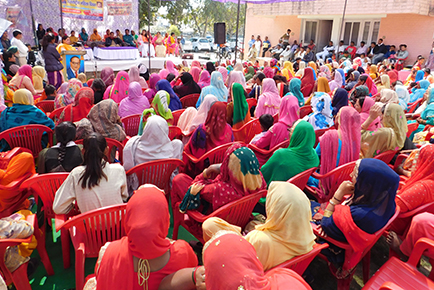 Photo: ActionAid India
ActionAid Association, with support from the European Union (EU), organized a fortnight-long Jan Sampark v Samvad Abhiyan (Peoples' Contact and Discussion Campaign) from February 23 to March 12 in Haryana in order to create awareness among Dalits and Muslims on their rights and entitlements. Through public meetings and community dialogues, this campaign reached out to more than 5,000 community members from 40 villages in four districts of the state, namely Fatehabad, Kaithal, Karnal and Mewat. As part of this intervention, block-level meetings were organized to facilitate communities' access to welfare schemes. At a meeting in Asandh in Karnal on March 4, more than 2,000 women and men from 18 villages gathered and submitted Mahatma Gandhi National Rural Employment Guarantee Act (MGNREGA) job demand applications at the office of the Sub-Divisional Magistrate, Asandh. On March 8, on the occasion of International Women's Day, a meeting of nearly 300 women from 19 villages of Mewat was organized on the various social security schemes and on their rights. On March 10, nearly 500 women and girls from Pundri in Kaithal came together and remembered the great social reformer, Savitribai Phule, and her contribution to women's rights on her death anniversary. As part of this campaign, several village-level meetings and programmes were also organized to sensitize and empower the vulnerable communities.
The campaign is part of an EU-supported initiative across the states of Bihar, Haryana, Rajasthan and Uttar Pradesh to enhance the rights of persons belonging to minority communities and persons affected by caste-based discrimination, by enhancing their access to justice and basic services through advocacy, capacity-building and community-led monitoring of implementation of laws, policies and services.
SUBSCRIBE TO OUR NEWSLETTER
* Mandatory fields

My ActionAid page
My ActionAid is an interactive space created exclusively for ActionAid donors to express themselves, to get in touch with us , to be a part of our campaigns and to trace their journey with the ActionAid family!