the most vulnerable
children
especially children who are malnourished
Infants
women
Pregnant and lactating Women
the aged and diseased
Extremely marginalized and vulnerable tribal, adivasi, minority and fisher-folk communities.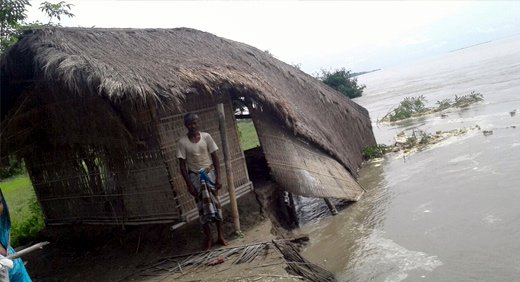 Region wise count
Patna, Bhagalpur, Khagaria, Katihar, Siwan, Bhojpur, Buxar, Kishanganj, East Chamapran and Hajipur districts in Bihar; Allahabad, Varanasi, Ballia and Mirzapur districts in Uttar Pradesh; Guna, Rajgarh, Shivpuri, Mandsour, Ujjain districts in Madhya Pradesh; and Baran, Jhalawad, Banswara, Chittodgarh and Kota districts in Rajasthan are severely affected by floods.
Situation of villages
Thousands of houses and agricultural fields destroyed in hundreds of villages across Bihar, Uttar Pradesh, Madhya Pradesh, Rajasthan. In Assam, lakhs of hectares of agriculture land were destroyed in floods last month. In many places people are.
The Affected
More than 5 lakh people in 12 districts of Bihar have been affected, while about 15,000 people have taken shelter in relief camps. In Uttar Pradesh, hundreds of villages in 3 districts are facing a critical flood situation. So far, about 10,000 people have taken shelter in relief camps.
Agriculture
With lakhs of paddy samplings been destroyed, we are looking at a serious food crisis. This acute food shortage will also lead to a spike in migration, trafficking etc.
Infrastructure damage
Embankments have been breached in several locations across these states; several roads and bridges damaged. Communications lines have been disrupted.
Livestock affected
Lakhs of big animals, livestock which is a big source of livelihood for majority of people in rural India have been affected by the floods.
immediate relief measures
Food & Shelter kit
Medicines
Veterinary aid
Safe drinking water
Health and Hygiene Kit
Saplings for farmers
long term recovery support
In addition to immediate relief, we also look into long-term intervention
Livelihood and skill based training to ensure sustained relief and rehabilitation
Building leadership capacity of community women on disaster-preparedness and relief operation
Initiation of measures to reduce the occurrence of disasters wherever possible