"The floods and landslides last year wreaked havoc in our village. All roads got completely blocked, disconnecting us from the main city," recalls Deepa, 35, from Kodakalkudi village in Adimali Panchayat of Idukki district, Kerala. Mother of two, Deepa works as an anganwadi teacher, besides being an active member of the local women's collective. "There are 80 families in our village, most of them from the Mannan tribe. Agriculture is our primary source of livelihood. The landslides badly damaged our farm produce," she further narrates.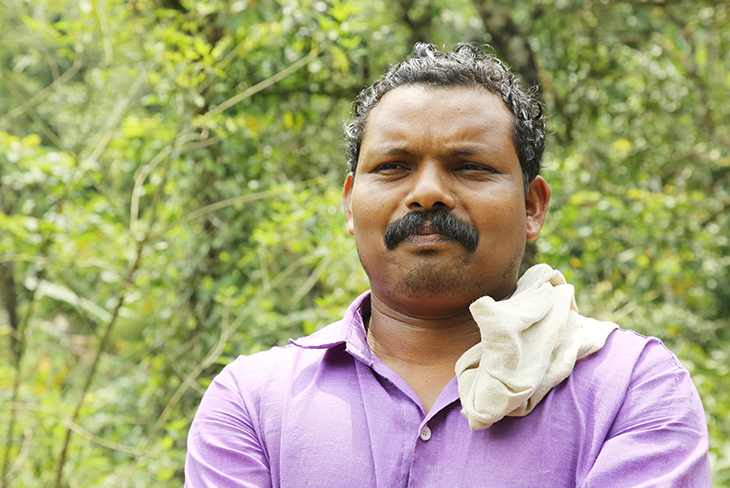 Mohanan on his farm
Deepa's husband, Mohanan, a farmer himself, clearly remembers how helpless he felt on seeing his fields getting devastated. "I could see my produce – jathi, banana, papaya, cocoa, elaichi, pepper plants – all of them getting damaged but I couldn't do anything," he shares. With a view to supporting communities restore their lives and livelihoods, ActionAid Association (AAA), with support from Oracle and Charities Aid Foundation (CAF), reached out to 30 worst-affected families in this village with agricultural support. As part of this intervention, families were provided diverse saplings and cash support of Rs. 1,200 each, besides a training in organic farming.
"The sapling distribution came as a blessing for us. We received a set of 10 types of vegetable seeds. Besides, in addition to the usual crops that we had been cultivating, we were provided some new ones, such as rambutan, apple, lemon and orange. We had never cultivated those, given the costs involved. But now we can, and their sale would bring us a good income too," says a happy Mohanan.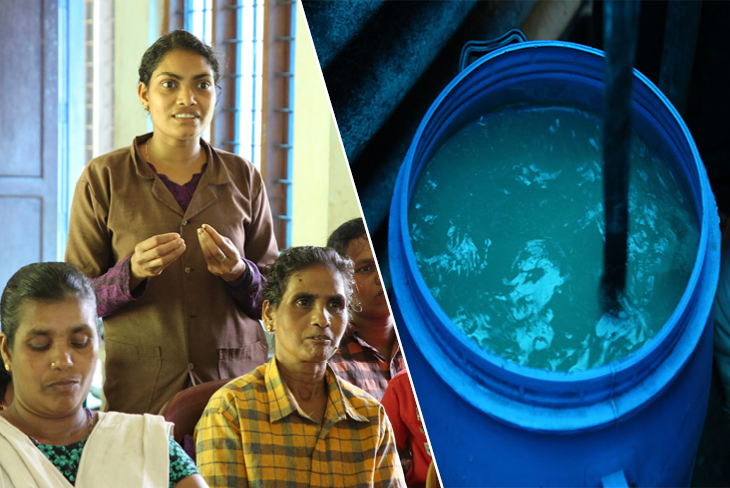 (L) Deepa talking about benefits of organic farming & Waste Decomposer; (R) Waste Decomposer at Deepa's farm
And Deepa – she is extremely happy with the orientation they received on organic farming. "This kind of training had never happened in our village. We learnt about the benefits of organic farming and marketing strategies for organic products. Besides, we were trained on the benefits and usage of Waste Decomposer," shares Deepa. "We are now using the Waste Decomposer which will help us increase our produce. We are also happy to be now consuming as well as selling chemical-free, healthy and organic vegetables and fruits," she adds.
In total, AAA, Oracle and CAF have provided 237 families, covering 13 villages of Idukki, with agricultural support, besides supporting the repair of five anganwadis, five schools and one community hall in the district.