Yesterday, some of us were lucky to hear Desmond Tutu speak.
In a span of less than half an hour, Tutu manifested his ageless wisdom and remarkable wit, commitment to the poor and subaltern, and universal compassion and empathy.
Tutu, a compelling mixture of laughter-inducing jollity and sobering far-sightedness, left us eager for more at the inaugural LC Jain memorial lecture which he delivered on November 5.
Interweaving his memories of Gandhian activist LC Jain with the political struggles in India and South Africa, Tutu held forth to a captive audience, making us all alternatively laugh and reflect. Arguably one of the tallest figures in the anti-apartheid struggles in South Africa, Tutu took great delight in poking fun at his own compact build.
He gave the example of the high school area near his home in Cape Town to demonstrate the changing demographic trends of South Africa.  "There used to be only white only couples and now there are mixed couples with babies of undetermined hue!" said Tutu, causing a burst of laughter.
"We have come a long way," said Tutu of South Africa. "But this will all go up in flames," he added gravely, referring to the immense inequality and rich- poor divide in the country.  "This will all go up in flames," he repeated, almost in a note of foreboding.
Tutu drew attention to the conditions of the poor, arguing that the poor want to be treated as proper persons who are able to think for themselves. "They don't want handouts. The poor need to be given a leg up…not in the form of charity but as the best possible act of social existence," he said, hinting at the limitation of the welfare state approach.
Given both India and South Africa are deeply entrenched in conditions of inequality, Tutu said in a reference to India: "You are a fantastic emerging economy, and it shows in the airports!"
He also highlighted the similar struggles of India and South Africa, noting that Nelson Mandela and others could walk out of jail because of India's own struggles with colonialism.  The crux of Tutu's speech lay in warning about the consequences of increasing inequality and marginalizing the poor. His note of caution, though in the South African context, was also relevant for inequality in India.
The Nobel Laureate concluded with a gesture that summed up the spirit of his talk. Expanding his arms, as if to widely embrace, he kept repeating: "All…all..all…this embrace which will not let anybody go."
An endless source of compassion and wisdom, a figure who influenced the course of history in apartheid South Africa, Desmond Tutu left us wanting more.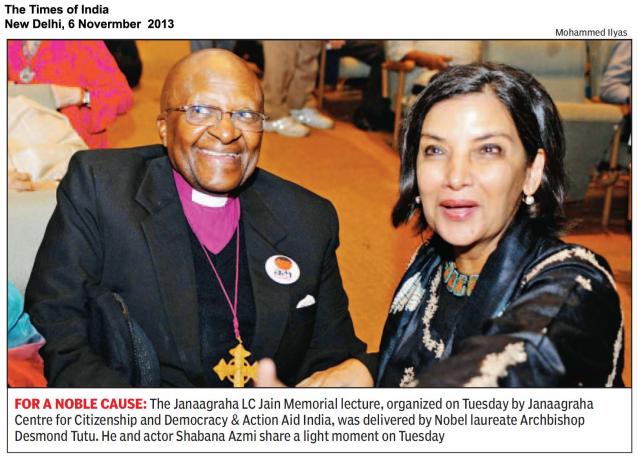 Photographs of the event can be found here