As I was preparing for the Christmas holidays in 2014, I got a call for the Emergency Fast Action Support Team (EFAST) deployment to Sierra Leone. I welcomed the opportunity to use my experiences and learnings from managing humanitarian projects for so many years and from the International Humanitarian Action and Resilience Team (IHART) trainings. Then I hit a roadblock with my family expressing concerns of safety and security during the deployment. I could not satisfy them as I shared many of those concerns. However EFAST addressed all these concerns and personally reassured (though many of my family's concerns remained) I left for Sierra Leone.
Sierra Leone was a completely different experience for me. Since I come from a coastal area in Odisha, nothing except the terrain was familiar to me here. The language used was mainly English, so I did not have any problem on that front. The country director and other staff of ActionAid Sierra Leone office were very friendly and quickly reassured me of my safety and explained my work. One thing definitely struck me was the courage and conviction of the local staff who continued their work even in the height of Ebola epidemic. The country programme had pre-existing partners before the outbreak and this helped a lot. I have always found that if we have good partners already in the field, half of the work is done.
Even in India, this is the most important strength of ActionAid – the network of allied organisations working with vulnerable communities and the rapport and widespread work which enable us to reach out to the most marginalised communities in the context of disaster.
Lack of proper information and knowledge creates issues
Health emergencies are very tricky for various reasons. First of all there are no 'visual effects' of the disaster such as is evident in big natural disaster like a tsunami or a cyclone. The virus is invisible and dangerous, but predictable.Predictable in the sense if we take all the precautions we can avoid getting the disease. Even if the medical aspect is very clear, the fear of disease has another set of consequences.
A parable in India relates to this. A village was greatly affected by an epidemic. A holy man used his mystic powers and ordered the disease to stop troubling the village. The disease begged the holy man to allow it to kill only three people. Agreement was reached. However the village saw death hit 50 households. The holy man summoned the disease to punish it. The disease protested, it had killed only three people. The rest had died of fear and confusion!
Disregard the superstitious elements of the story, the deeper moral we can understand is how fear operates in a situation like this. Sierra Leone was no exception. In the initial stages, there was ignorance about the disease. People treated Ebola as any other disease and went on doing the rituals of washing dead bodies before cremating them. In the later stages, people were fearful as to what might happen in the treatment centre and started hiding the disease. This combination of ignorance, fear, superstition and the stigma made Ebola a very dangerous epidemic.
This is an extremely important learning for India where religious superstitions reign supreme in health and natural emergencies which are seen as 'acts of God'. So, it is important to work with communities to change this attitude and work towards disaster resilience and prevention of epidemic.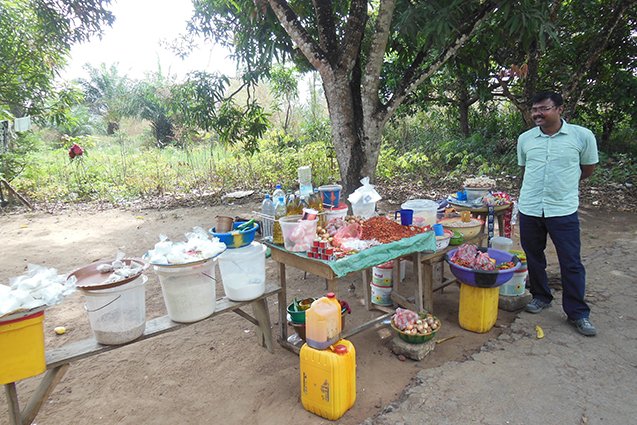 At a roadside shop run by a woman at Newton, Sierra Leone

Keeping the community at the centre of interventions


As always ActionAid started with communities at the centre of their interventions. Be it about the strategy of implementation or the Information, Education Communication (IEC) materials – ActionAid's contributions were very distinctive. Over 164 neighbourhood watch committees in Sierra Leone comprising of the village chiefs, village elders, women leaders and interested youth did yeoman service to the community by making them aware of the dangers of Ebola and how to deal with it. This was extremely important initiative to control the disease as people often heed the advice of their leader be it their traditional leaders or religious leaders. Besides this, ActionAid also developed many innovative IEC materials like versions in Braille for the visually impaired, radio jingles and role play to ensure that the messages reach as many people as possible.Working with Tribal leaders in an emergency scenario and visually impaired partners was something to learn from the Sierra Leone experience.

I was assigned the role of attending the NERC (National Ebola Response Centre) and UN pillar meeting and reporting back to the office. The meetings were quite interesting as it threw light how different stakeholders worked in tandem to curb the disease. It was very good that ActionAid's work was recognized in all the forums and they recognized the contribution of the neighbourhood watch committee members. This was something we are already doing in India but we can engage intensively with other important stakeholders like UN, IAG, Sphere, State and National Disaster Management Authorities in our emergency work in India.

Learning from survivors

What I loved most was going to the field, of course after taking all the precautions. It was a revelation to talk to the Ebola survivors. Their stories of courage and conviction moved me a lot. I was surprised how they were stigmatised by their neighbours and were thrown out of their houses because of the fear of the infections. The Government also ignored the survivor's demands like support to restart their livelihoods and support for food and nutrition and supplements to increase their immunity. I personally thought survivors could be great ambassadors for the government and other agencies to spread the message that Ebola is treatable and it is not all fatal if the patient goes for treatment very early.

Learning from the crisis

An important learning from the Ebola epedemic was that all the pre existing standards including the ActionAid Emergency response handbook although very relevant, were inadequate to meet the demands of this unprecedented health emergency. To start with the staff security, the office had to arrange for regular temperature checks of staff coming into the office, office transportation was provided to and from the office. Initially staffs were also allowed to work from their home when this security was not in place. It was no where mentioned in the ActionAid policies so arranging these things were difficult. I also thought that other standards like Sphere standards should be revised so that they are equipped to deal with health emergencies. Health here is not just a sub section that we have to deal with but a prime area of concern which affects all other parts of life including livelihood, education, women rights and so on. New standards are also required to deal with human resources in the health emergencies. At the community level, new cultural practices need to be popularised and old practices need to be discouraged during health emergencies.

Looking forward

On the whole I this was a very personally enriching experience. I think sometimes ActionAid staff should stretch themselves physically, mentally and intellectually and so new and exciting things which is also helpful to the organisation. EFAST provides ample opportunity for this. Apart from learning new things myself I also helped the ActionAid Sierra Leone office in the coordination meetings, documentation, report writing, developing formats for livelihood survey and so on. Time always flies when you do exciting things. In the end I thought time was not enough for doing so many things!