In India close to estimates are that about 400 million people depend on agriculture for their livelihood. The impact of private companies making inroads into agriculture and the subsequent promotion of large scale corporate farming essentially means that this large chunk of population is at the risk of losing their livelihood without any alternative in sight. Commonsense tells us that there is no sector in the world that can absorb and provide employment to 400 million, other than the agricultural sector. When, in the name of corporate farming you entrust land ownership and agricultural production to a few people or companies, where will the large majority go? What will they do for a living?. This and many such impacts of Corprate farming and large land holding patterns were part of the discussion at the Indigenous farmers meet in the Sambalpur District of Western Odisha.  What was however most interesting was the possibility of cost-effective alternatives, which were being presented by indigenous farmers at this meet. 
The immediate threats posed by the private sector to the livelihoods of small and marginal farmers are that these people are systematically lured into cultivating chemical-dependent cash crops in a contract farming mode. P. Sainath, senior journalist and an expert on the issue of agrarian crisis, reminds us about the dangers of this overt dependence on cash crops here. In this lecture given to the Parliament house in 2006, he points out at the lethal fall-outs of corporate farming. He also points at the fact that the crisis faced by small-holder farms is indeed a global issue.
Adoption of machine-intensive practices and the impact of the much touted second green revolution create very little scope for the small-holder farmers. That day is not too far away, when these people will have to buy food crops from exploitative and patent-holding agencies selling food crops at exorbitant rates. A recent ruling in the United States on patents pertaining to GM seeds is a case in point. I am not inventing scenarios here. It is already happening.  
But to speak specifically for the State of Odisha, the numbers of farmers' suicides have been increasing in Western parts of the state. Our frequent visits to the fields have suggested that the need to use expensive fertilisers and pesticides force these poor families to borrow money (usually in the range of Rs. 10,000- Rs. 20,000, that's about $180-$350), from the moneylenders at abhorrent interest rates.  There have been a good number of media reports, which suggested that due to the failure of paddy crops and huge investments on chemicals and fertilizers, many of the farmers had committed suicide in the districts of Western Odisha.
Taking cognizance of this, on 30th April 2013 Western Odisha Krushak Sangathan with other likeminded groups working on the indigenous farming had organized a meet of indigenous farmers. In this event, more than 300 indigenous farmers from the districts of Western, Northern and Southern Odisha had gathered and shared their personal experiences on traditional farming system. All of them have successfully adopted traditional farming systems using the organic manures during farming.
Women farmers from Sundergarh, Kuchinda and Padampur had performed folk danceand songs, highlighting the importance of indigenous farming.  More than hundred varieties of traditional paddy seeds, millets as well as vegetable seeds were displayed and exchanged among farmers, with an aim to preserve the traditional variety of seeds.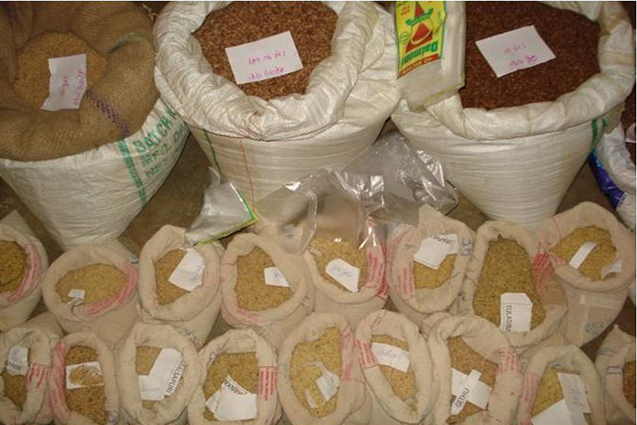 Around 32 successful indigenous farmers had shared the advantages of traditional farming systems, the importance of seed preservation, the benefits of compost pits, and the different methods of producing organic fertilisers.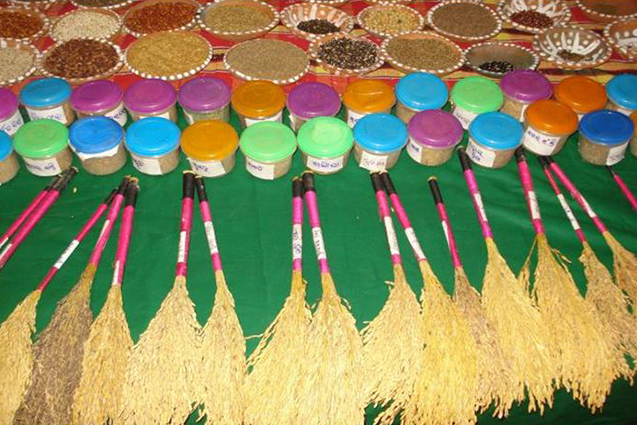 Some of the indigenous farmers were also felicitated in this meeting for espousing the indigenous farming.  Variety of traditional food was prepared from millets and distributed among the participants.
One of the farmers Shantanu Singh from Bargarh district says,
"Acceptance of traditional method in farming helped me a lot in producing good quality rice last year. I used organic manures, which were very cheap. The food is not only tasty; it is also nutritious and healthy. I'm indeed happy that I practiced organic manures in my land. I'm further glad that I've have been able to save my land from the adverse effects of chemical pesticides".  
Around 13 social groups and organisations, namely, Desi Bihan Surakhya Samiti, Jaya Durga Anchalika Krushak Sangathan, Rengali Krushak Sangathan, Alibha Krushak Sangathan, Dharua Dihi Krushak Sangathan of Sundergarh, Lok Adhikar Krushak Sangathan of Padampur, Krushak Sangathan of Malkangiri, Koraput, Rajamunda, Kandhamal and Paschim Odisha Krushak Sangathan Samannway Samiti had participated in this meeting.