How to Save Tax under 80G?
Taxes and Deductions
At the end of the financial year around 8.45 crore people in India pay their income tax. Income Tax is paid as a percentage of annual income. The percentage depends on the tax bracket in which the annual income can be placed, but that is usually not the final sum to be paid.
Section 80 of the Income Tax Act lists various deductions that can be made on how much of income is calculated as taxable reducing the tax burden on the individual availing these deductions.
Such savings on tax payments can be made on a variety of deductions including deductions on investments, house rent, medical insurance, interests on savings accounts, and more. All these deductions are the government's way of reducing the burden on the taxpayers who qualify and for promoting those activities for which deductions are applicable.
One such important tax-saving option is under 80g tax exemption donations made to certain charitable organisations.
What is Section 80G?
Section 80G of the Income Tax Act provides a 50% exemption from paying tax on donations made to funds or organizations qualifying under the act. This Section offers tax deductions on donations made to certain funds or charitable organisations with a qualifying limit not exceeding 10% of Adjusted Gross Total Income. The amount donated can be claimed as a deduction under Section 80G, at the time of filing income tax returns.
Various NGOs and Government organizations which are working on philanthropic or developmental activities come under this section. ActionAid Association is also registered under Section 80(G)(5) as a charitable organisation doing work that uplifts vulnerable groups. So if you have contemplated contributing to causes you believe in you must keep in mind that it comes with a tax exemption for donation also!
Tax exemptions to donations under 80g provide an incentive for the public to give to organisations that work towards the development and upliftment of vulnerable sections of the society.
How to save income tax under 80g?
The deduction under 80g income tax can be claimed by any taxpayer whether she or he runs her or his own business or is salaried. When claiming the deduction, the individual claiming the deduction must submit the following details-
The name and address of the trust
The name of the Donor
The investment under 80g or the amount donated; both in words and figures
The Registration number of the trust, as provided by the Income Tax Department along with its validity.
ActionAid and 80(G)
ActionAid Association is registered under Section 80(G) (5) of the Income Tax Act and whosoever donates to ActionAid Association is eligible to get a 50% tax deduction on the amount paid by them if the amount does not exceed 10% of their Adjusted Gross Total Income.
Upon your donation, you will immediately receive a certificate under Section 80g along with your receipt which would contain all the requisite details for you to file for your deduction save income tax.
ActionAid Association works with children in vulnerable communities by providing them with education, nutrition, care and protection. Under our #ActForChildren Programme, we help children in vulnerable communities get enrolled in schools, make public education functional by engaging the government and communities through various forums. We work with communities to ensure nutritional security and work with governmental agencies to combat child marriage, child labour, and trafficking to protect children.
Also, we help women facing violence or discrimination or abuse and provide them with rescue and rehabilitation support. We also respond to various disasters and emergencies with a focus on the most marginalised in all our interventions. You too can be a part of this change and help us reach more individuals and keep us in your investment plan with the added perk of saving with a 50% Tax Deduction on your donation.
Your support helps us support communities by working with the government and marginalised communities to realise a vision for social and ecological justice.
Donate Now & Get Tax Exemption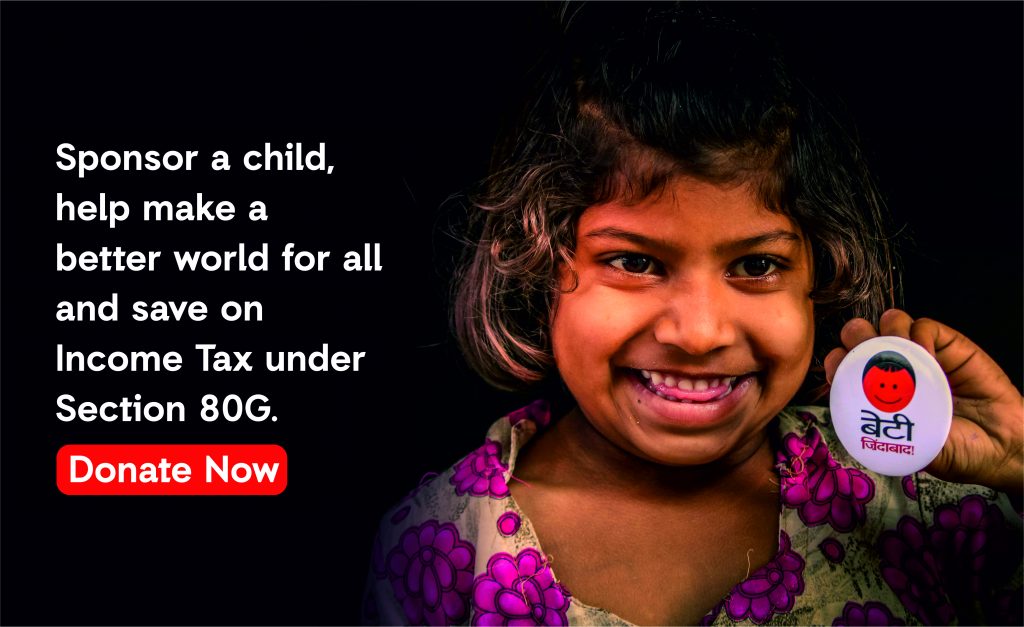 ---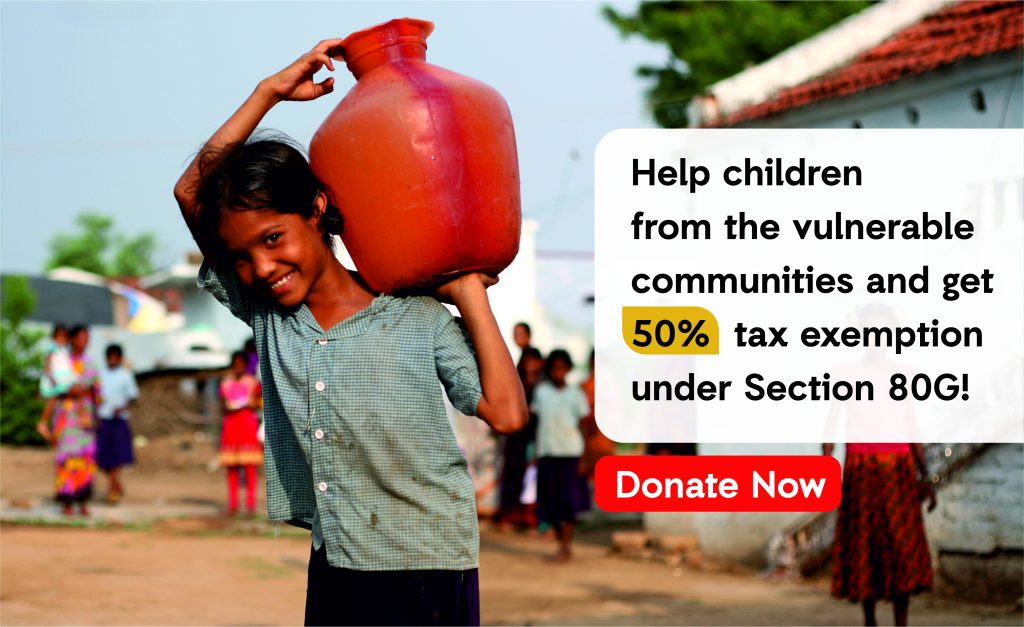 ---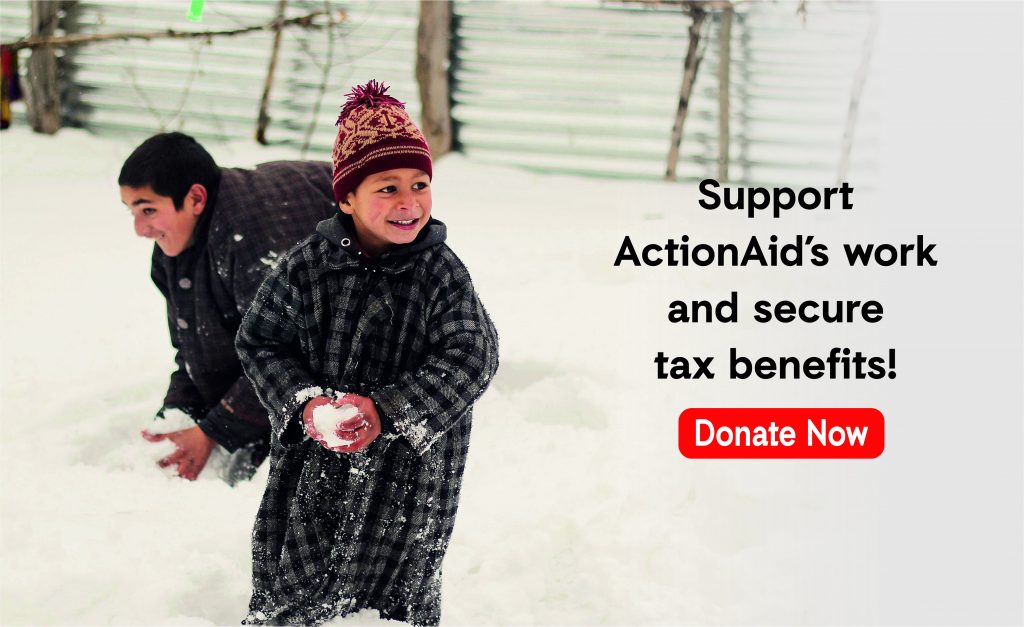 ---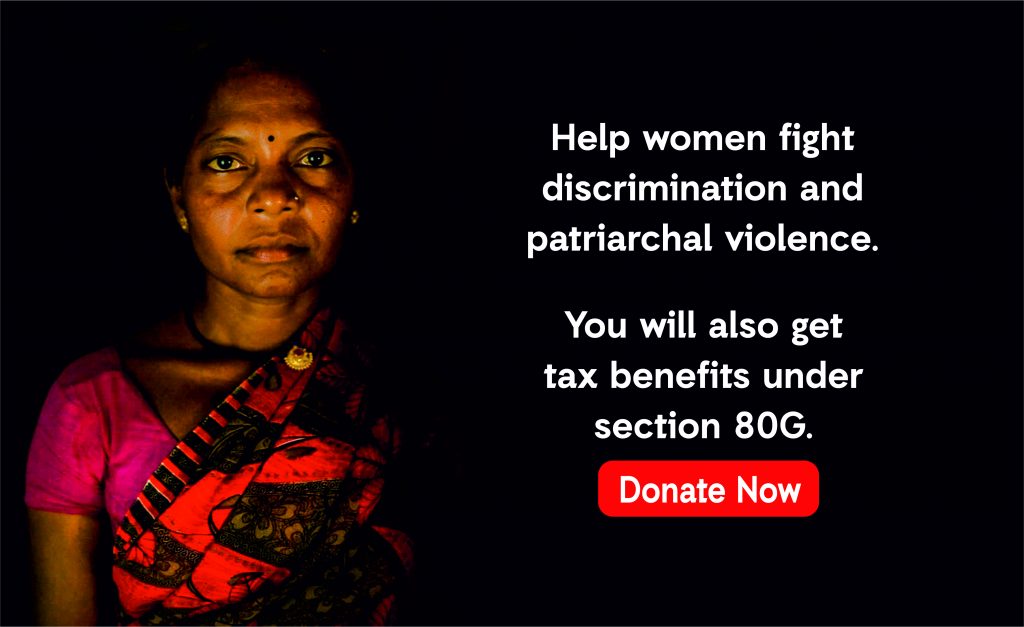 ---