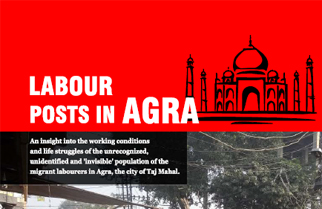 An insight into the working conditions and life struggles of the unrecognized, unidentified and 'invisible' population of the migrant labourers in Agra, the city of Taj Mahal
Construction workers constitute the largest section of the unorganized work force in India. The place where these people collect, interact and bargain with their prospective employers for the day/s is termed as labour adda, labour chowk or labour post. These places are generally the cross roads or road sides, mostly in the busy commercial spaces of the city and often on the target of the local police, shopkeepers and commuters as creating traffic congestion and obstruction of the normal city space.
The current study of labour posts in Agra reveals that more than 5000 labourers commute daily to the 18 labour posts in the city of Agra where as many hundreds more work at project sites and others go to worksites daily from their respective homes.