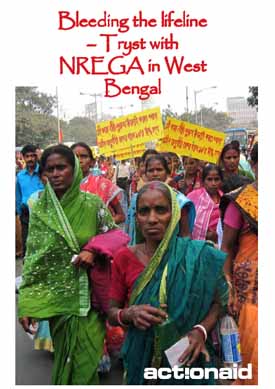 The National Rural Employment Guarantee Act (NREGA) 2005 is a landmark step by the central government aimed at providing employment to those living in chronic poverty in rural parts of the country. However, the status of its current implementation and access to it by the most marginalised is far from satisfactory.
This report is based on an extensive community level survey and case study gathering in nine districts in the state of West Bengal. Its objective to not only explore the real picture of the functioning of NREGA, but also highlight cases of denial, lack of access, delayed payment and sheer ignorance about this much publicised life-line for the rural poor.
The districts covered under this exercise over the past six months include North and South Dinajpur, Coochbehar, Murshidabad, Malda, Darjeeling, South 24 Parganas, West Midnapur and Purulia.
The methodology used was qualitative in nature and based on interviews of a cross section of stakeholders, the most prominent being women and marginalized groups themselves.