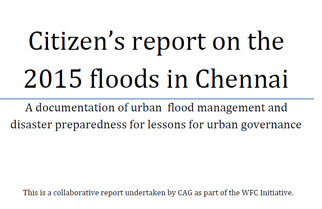 A documentation of urban flood management and disaster preparedness for lessons for urban governance
The floods in Chennai during December 2015 are a stark reminder of the challenges that lie ahead if Chennai continues on its current trajectory of development and urbanization. Therefore, we must not only understand what transpired during event, but also what happened before and after the event; more importantly what we can learn along with the actions required in order to make Chennai a resilient city.
This report is an attempt to enable citizens to improve their understanding of the events surrounding the floods from different perspectives as well as approaches that can be adopted for risk mitigation. It also aims to serve as a tool for advocacy with stakeholders specifically government authorities/departments. While working within the existing governance structures, the report attempts to feed into policy, its enforcement and monitoring together with government to jointly shape the vision for the city.