Toll Free No
+180030701070
City Makers in Bhubaneswar
Update: 22-September-2017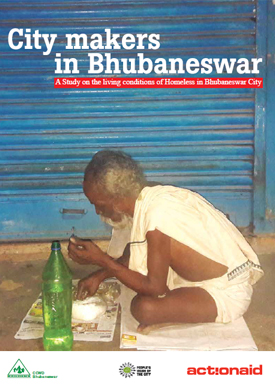 A Study on the living conditions of Homeless in Bhubaneswar City
It is heartening to see homeless studies being done across the country highlighting the problems and concerns of CityMakers, homeless residents of the city, who are a significant marginalised section of society in urban India.
The Bhubaneswar homeless study is particularly interesting because we have done such a study in 2002-03 also. In the first study the homeless count of Bhubaneswar was 2036 and the present study has enumerated 6559 homeless in Bhubaneswar in 2017. The population of homeless has increased and the problems they face in Bhubaneswar has compounded, despite a tremendous increase in infrastructure in the city, including homeless shelters. The majority of homeless especially youths have migrated as wage hunters from various districts in Odisha which are largely affected by natural calamities like floods, cyclones, droughts and so on. Women who constitute about 21% of the total homeless population largely work as domestic labour having no social security programmes for them. It is important to deliberate on the issues of the homeless and connect with them especially when we are planning to convert Bhubaneswar into a smart city.
SUBSCRIBE TO OUR NEWSLETTER
* Mandatory fields

My ActionAid page
My ActionAid is an interactive space created exclusively for ActionAid donors to express themselves, to get in touch with us , to be a part of our campaigns and to trace their journey with the ActionAid family!