Toll Free No
+180030701070
Community Concerns on Climate Change
Update: 17-December-2015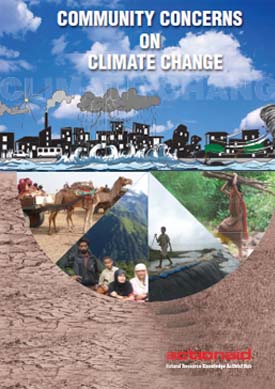 This report is important to understand community concerns particularly when world leaders from 150 countries assembled in Paris for COP21 from 30th Nov. to 12 Dec 2015. COP21 is expected to develop common action points to check carbon emission and address problems caused by global warming. It is also pertinent to consider problems of the most marginalised people living in developing countries without any compromise to their resource utilisation. It is expected that countries will bind an agreement to implement emission pledges declared earlier. The formal target is at limiting global warming to 20 Celsius above pre-industrial. Rich countries had promised at least 100 billion every year to poor countries by 2020 for adopting climate change and reducing emission. These funds are needed to adopt green technology, renewable energy and shift low carbon paths of development. India has urged world leaders to come out with a comprehensive, credible and durable climate agreement. Various nations have already drafted their own 'intended nationally determined contributions'. (INDCs)
The findings of this report will guide all policy makers and activists involved in climate change action in different places and will help people adopt and mitigate climate change in their own locations. In our future course of action, climate change will be a critical area of intervention in Actionaid and this report will help as a guide towards that perspective.
SUBSCRIBE TO OUR NEWSLETTER
* Mandatory fields

My ActionAid page
My ActionAid is an interactive space created exclusively for ActionAid donors to express themselves, to get in touch with us , to be a part of our campaigns and to trace their journey with the ActionAid family!