Toll Free No
+180030701070
COMPENDIUM ON MISSING CHILDREN
Update: 3-April-2015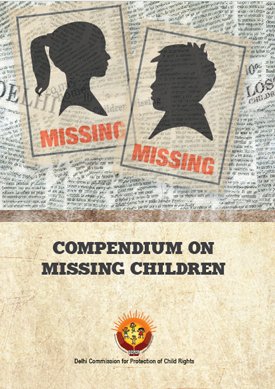 The issue of "Missing Children" is a matter of serious concern not only for the Delhi Commission for Protection of Child Rights but for all stakeholders. A number of agencies both at the central level as well as of the NCT of Delhi are engaged in addressing this problem. Whether it is the Delhi Police, the Ministry of Home Affairs, or the National Human Rights Commission, several guidelines and instructions have been issued in order to deal with the subject of Missing Children from time to time.
The present Compendium is an effort to put together in one place the various instructions/orders/guidelines/Standard Operating Procedures not only of the Delhi Police but also of other organisations like the NHRC as also advisories on the subject issued by the Ministry of Home Affairs. The Compendium also includes important Court Pronouncements on the subject of Missing Children.
SUBSCRIBE TO OUR NEWSLETTER
* Mandatory fields

My ActionAid page
My ActionAid is an interactive space created exclusively for ActionAid donors to express themselves, to get in touch with us , to be a part of our campaigns and to trace their journey with the ActionAid family!