Land Rights of Single Women
Update: 26-September-2015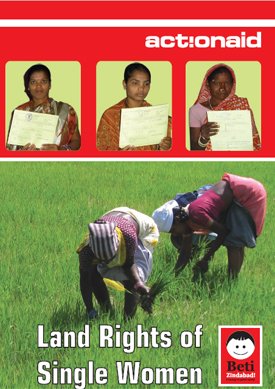 ActionAid has been working with single women and their rights for more than a decade now in myriad of ways, from supporting women in disaster situations to access compensation and housing rights to accessing citizenship rights and organising them across different States. There are more than 10,000 women that our partners and community based organisations have been able to organise and support formations at local and the State levels (in A.P., Gujarat, Rajasthan, Madhya Pradesh and Odisha). The work with women rendered single by the earthquake in Gujarat in 2000 helped us to develop our own perspective and strategies to work with women who are single. It gave us grounded understanding of rights based work with single women, while being informed by women's rights perspective.
ActionAid is of the belief that work with single women has to move beyond ensuring entitlements for
food and pension to ensuring rights to education, health, land, livelihood, agriculture, access to
institutional credit and employment opportunities.