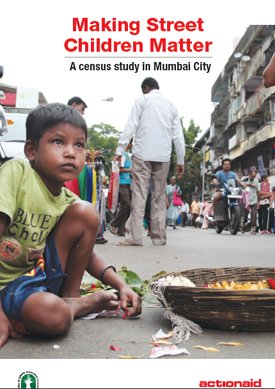 A census study in Mumbai City
Over the last two decades, ActionAid India has undertaken numerous development programmes with street children in different cities of our country. Our activities have ranged from provision of services on the street such as provision of shelter, board and lodge facilities, linkages to counseling, health care, education and training, with special services for girls living on streets and so on, including efforts at repatriation where desirable and possible.
Mumbai reports one of the largest concentration of children living on and of the streets and where numbers of street children have rapidly increased in the last decades and where social organisations have supported a diverse range of programmes with them. The city, therefore provides a unique crucible for learnings for development policy and praxis for street child.