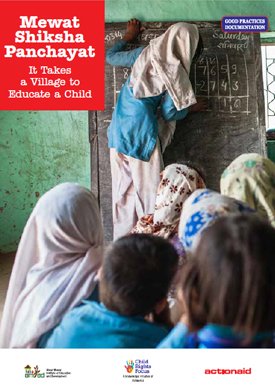 It Takes a Village to Educate a Child
The Mewat region in Alwar district of Rajasthan is an area where the children are deprived of education due to many reasons. ActionAid has been actively pursuing the agenda of educational rights in many ways and has adopted various approaches and strategies while engaging on this issue. There have been many changes, some of which especially at the community level, have gone un-noticed. At the same time, there have been significantly successful models of work around education and child rights. The present publication is one in a series of Good Practices documentation which Child Rights Focus, ActionAid will be bring out.
In this context, Child Right Focus, ActionAid has tried to document one such successful strategy by the ActionAid Rajasthan Regional Office and that of Alwar Mewat Institute of Education and Development (AMIED), the partner organization involved in this collaborative work. This story is about "Shiksha Panchayat" a community based platform constituting the coming together of various village level stakeholders of education. This is a community forum of many stakeholders who are interested to bring change in the lives of children especially that of girls through education. Siksha Panchayat is a diverse group of the marginalised, which has been successful in addressing the issue of lack of education or poorer access and quality of education by pursuing multiple strategies. More details on the initiation and functioning of this model are available in this documentation.