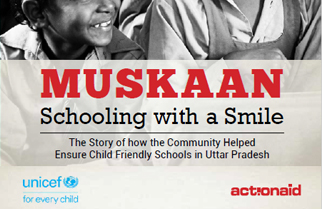 The Story of how the Community Helped Ensure Child Friendly Schools in Uttar Pradesh
Muskaan (in collaboration with Action Aid and UNICEF) is a step in this direction which aims to strengthen the community which in turn takes the ownership of schools improving attendance, retention and transition of children. To ensure child friendly schools the project emphasized working extensively at the local level to strengthen communities through Panchayats (Village Education Councils), school teachers, School Management Committees and duty bearers.
Though the project adopted three pronged strategies to obtain the desired results but simultaneously it involved the Panchayats, the school administration, the District Elementary Education Department and other associated departments in each district Headquarter.
To ensure enrolment, attendance, retention and improving quality of education as per the RTE Act. The School Management Committees (SMCs) are the first line of mechanism. The demands are addressed at school level by including these within the School Development Plans prepared by the newly constituted SMCs and the local community.
Considering the above, the project developed strong community structures, active stakeholders' linkages ensuring the transparency, accountability and participation.