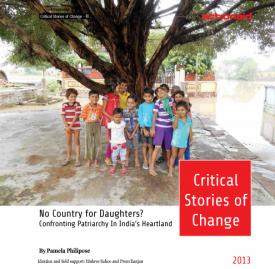 ActionAid is a global movement of people working together to further human rights and defeat poverty for all.
About this story
The bordering districts of Dholpur and Morena in the states of Rajasthan and Madhya Pradesh respectively, are infamous for the highly misogynist feudal social structure and significantly lower sex ratio. The sex ratio has always been on a lower side over the last hundred years and killing of infant girls was practiced and accepted as in some other parts of the country. However with the introduction of ultra-sound technology combined with the evil of rampant medical malpractice and unscrupulous practitioners, sex selective abortions have become the norm.
The initiative Chahhat Hai Jeene Ki in partnership with Prayatn Samiti took it as a challenge to prove that the damage could be stopped and the trends reversed if concerted efforts were put in place. It not only proved its point in this decade long partnership with ActionAid India, but also played an important role in bringing the issue of adverse sex ratio to the attention of larger development community.
It started as a cross-border initiative in Rajasthan and Madhya Pradesh in the year 2004 with the focus of establishing rapport with the community and building a field based cadre of committed people to work on the issue. After gaining the confidence of people in challenging and addressing private lives and privately made decision, they created a strategic and targeted approach. They started organising children, teenage girls, and young men and of course adult women and men in separate groups to question the denial of human rights to women at all stages in life and created what we all now understand and call "the life-cycle approach".
The strategy has been very successful in changing the way how villages now perceive private and social life and introduced to many other partners of ActionAid India.
Hope the experiences will leave an imprint in your minds to gain your solidarity in making this country a safer and nurturing place for the girl child.
Background
Critical stories of change is a series of stories describing the role ActionAid International plays in changing the lives of people living in poverty. But in their openness, self-criticism, detailed analysis and celebration of the active role of others, the stories are far removed from self-congratulatory 'good practice case studies'.
Critical stories of change are full of life, and are intended to impart the insights, advice and confidences of a friend. ActionAid International often makes claims for its work and achievements. Yet, in the struggle to address the causes of poverty and injustice, ActionAid is often one of many players. What ActionAid rarely gets to know is the significant nature of its contribution and the factors (both internal and external) that contributed to the outcomes.