Toll Free No
+180030701070
REFLECT-Stronger Together
Update: 7-April-2009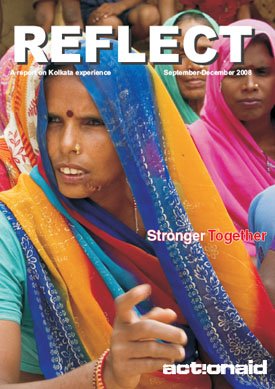 A report on Kolkata experience
Reflect (Regenerated Freirean Literacy through Empowering Community Techniques) is an approach to adult literacy and social change based on the theories of Paulo Freire. To this is added Robert Chamber's gender, development and participatory approaches and both are moulded to a structure that responds both to practical needs of literacy programmes and helps bring about broader social change. This has been actively promoted by AA in its global mission 'Right to End Poverty'.
SUBSCRIBE TO OUR NEWSLETTER
* Mandatory fields

My ActionAid page
My ActionAid is an interactive space created exclusively for ActionAid donors to express themselves, to get in touch with us , to be a part of our campaigns and to trace their journey with the ActionAid family!