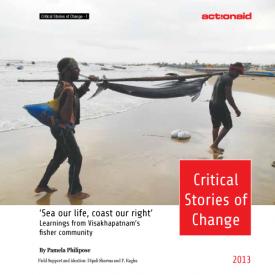 ActionAid is a global movement of people working together to further human rights and defeat poverty for all.
About this story
In this edition, we present to you a story about the indigenous marine and back-water fishing communities in Andhra Pradesh, who have been living peacefully along the coast, with their environmentally sustainable practices ensuring a healthy and dignified life to several generations.
Their contributions and rights, however have never been recognised and the advent of advanced technologies in the fishing industry and the continuous onslaught of the market forces has pushed these communities into an inescapable trap of poverty. The tsunami of December 2005 further took them back by several years, by not only destroying their lives, property and means of livelihoods but leaving them ever more vulnerable to displacement by vested interests wanting to usurp vast coastal lands for huge capital gains by taking advantage of the fear and despair that existed among the coastal communities then.
The story takes us through the journey of these fishing communities in their struggle to assert their rights and the effort to rebuild their lives after the Tsunami. The emergence of North Coastal Andhra Fisher folk Network (NCAFN), a strong network comprising of community leaders and activists, community organisations, NGOs and several other civil society organisations extending from Visakhapatnam to Krishna districts in Andhra Pradesh was key in mobilising this community and building their agency.
We hope that the various strategies adopted by this initiative in the form of youth and women leadership programmes, their political conscientisation, building of unions and collectives etc and the various lessons from these strategies will provide important insights for other similar initiatives aiming at such social change processes in other parts of the country.
Background
Critical stories of change is a series of stories describing the role ActionAid International plays in changing the lives of people living in poverty. But in their openness, self-criticism, detailed analysis and celebration of the active role of others, the stories are far removed from self-congratulatory 'good practice case studies'.
Critical stories of change are full of life, and are intended to impart the insights, advice and confidences of a friend. ActionAid International often makes claims for its work and achievements. Yet, in the struggle to address the causes of poverty and injustice, ActionAid is often one of many players. What ActionAid rarely gets to know is the significant nature of its contribution and the factors (both internal and external) that contributed to the outcomes.