Toll Free No
+180030701070
Shadow Report
Update: 21-April-2008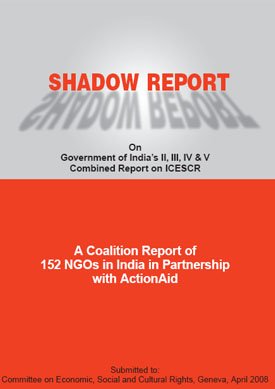 A Coalition Report of 152 NGOs in India in Partnership with ActionAid
Shadow reports offer the opportunity to bring people's voices against human rights violations in their country at the international legal fora. This in turn builds pressure on the countries to take full cognisance of the violations and make way for the required social justice. The report preparation is also an opportunity to constructively engage with the Government and build solidarity with other civil society groups to improve human rights conditions. We hope for such an effort to fructify.
SUBSCRIBE TO OUR NEWSLETTER
* Mandatory fields

My ActionAid page
My ActionAid is an interactive space created exclusively for ActionAid donors to express themselves, to get in touch with us , to be a part of our campaigns and to trace their journey with the ActionAid family!