Bapatla Sathyavathamma, a Yanadi tribal woman, is uniting her community to fight injustice – fiercely and fearlessly. 
"Yanadi people" from the plains of Nellore, a district in the eastern coastal state of Andhra Pradesh, are one of most vulnerable tribal groups in India, living in extreme conditions of poverty and social exclusion. Close to 67,000 families live in Nellore alone. They live in small groups, dispersed in forests or on the fringes of villages of the cultivators. Severe forms of dispossession and land alienation has led them to live a life of agricultural bondage in the fields of village elites, often from a higher caste. 
Some of them also rely on small-scale-inland-fishing for survival and subsistence. Stories of their back breaking labor leading to little or no wages, exclusion from socio-cultural-economic and political decision making are distressingly common. 
Despite a progressive land reform and redistribution initiated by the State of Andhra Pradesh over the last five decades, guaranteeing over 40, 500 hectares to nearly 37,000 Yanadi families in Nellore, little has changed on the ground. Land still remains in the clutch of powerful village elites.  
Members of the higher caste also wield enough control and influence in the local bureaucracy to create frequent hurdles in any attempts to reform and redistribute. Tales of atrocities committed on people from Yanadi tribal groups are frequently reported, creating a sense of fear in the minds of anyone who dared to question the status quo.
It is in this context that Bapatla Sathyavathamma emerged, as a powerful voice of resistance, twenty five years ago.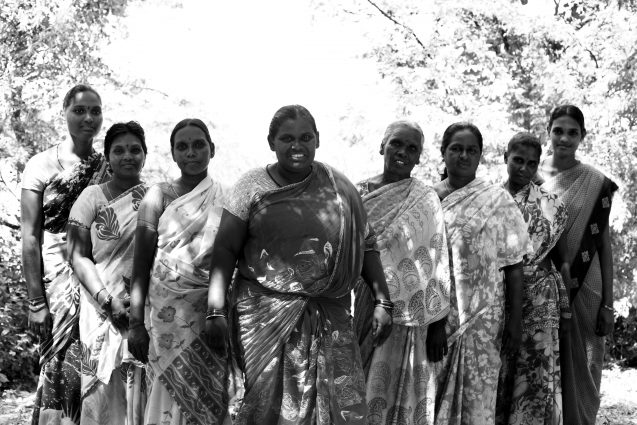 Satyavatamma and her group of women have led a decade long struggle for social justice and dignity
She is today the President of Tribal Women Fisheries Cooperative in the district and also the Vice-President of District Yanadi Samkhya, a coalition of Yanadis. Both these formations truly represent the demands and aspirations of Yanadi people. 
In her two decades of struggle (never an easy one, considering the frequent threats that came with it) Satyavatamma and her group of tribal women have taken on the village elites, local elected members and district officials head on.  
With constant support from social organisation Association for Rural Development (ARD), an ally of ActionAid India, Satyavatamma and her group succeeded in pushing for an  Integrated Tribal Development Authority office in the region in 2002, despite it being a non-scheduled area. This meant that the community had a separate and exclusive department to look into their issues of welfare, and with budgets to facilitate and execute welfare efforts. It was a much needed boost. 
One of her earliest achievements has been to reclaim nearly 6 hectares of land in the nearby Puruni village, from its illegal holders. 
In one of the instances, where she approached the District Commissioner, to ensure the redistribution of nearly 60 hectares of land back to each of the 120 Yanadi families, who were the original owners, she faced immense pressure and even death threats from the village elites.
 Sathyavatamma, though, never buckled. 
She fiercely and fearlessly continues to demand the entitlements due to her community and is persistent in her efforts to monitor effective implementation of welfare schemes. 
This group of highly empowered and motivated women, also ensures that the land titles are issued in their name and that they get to equally participate in all economic, social and political decision making, within their community and outside.
"We reclaimed nearly 1000 hectares of land to set up 7 fish tanks in the area for inland fishing. 156 women are linked to it" recalls Satyavatamma
This group later went onto form a Tribal Fisher Women's Cooperative, of which Satyavatamma is now the President. In one of the groups' latest set of achievements, led by Satyavatamma, the Department of Fisheries allotted an amount of INR 400,000 for fisheries related development of the cooperative.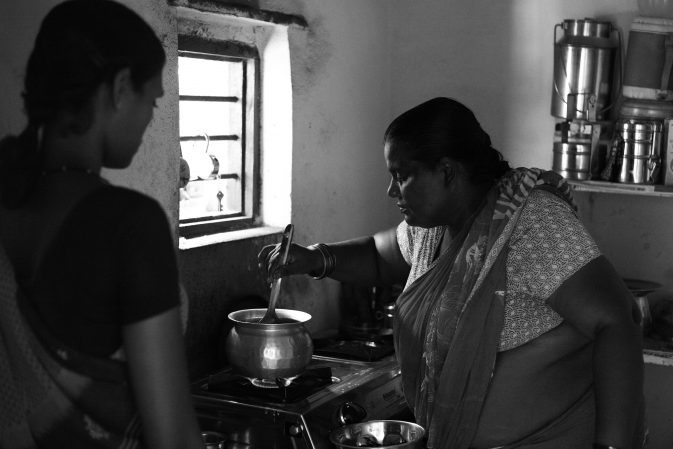 Satyavatamma at the Fisheries Cooperative. They make fish chips
Her persistent efforts have also resulted in 35 families being issued sites to build houses, in creating accessible irrigation facilities and also in developing health assistance programmes in the region.
Satyavatamma and her group of women have been leading struggles for social justice calling for an end to the bonded labour systems and various other forms of atrocities committed against the community. In one of the group's recent advocacy efforts with the government of India, demanding a 'Particularly Vulnerable' status for their tribe, some headway has been made after the establishment agreed to livelihood support and subsidy support. 
 TV9, one of top most broadcast media houses in the country, recognized and awarded her immense efforts in building up a people-led resistance movement. 
Separated from her partner many years ago, Satyavatamma, also a mother to two children, believes that women's liberation is what can truly lead to any society's liberation.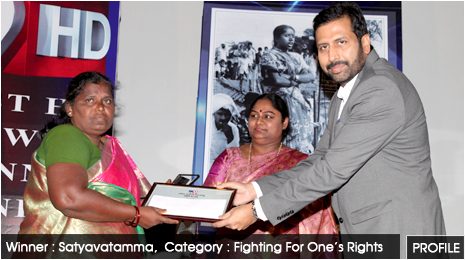 Source: http://www.tv9naveena.com/images/14satyavatamma_big.jpg
"My dream is to see the day when everyone among us would own a piece of land, a tank, [and] we farm on it, we fish in it. All that we want is a life of dignity and peace," says Sathyavatamma