Toll Free No
+180030701070
Claiming Rights
Update: 4-July-2006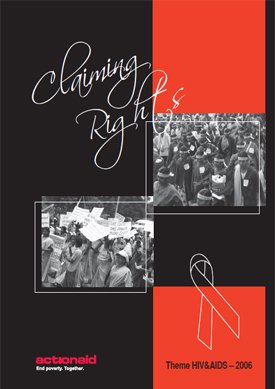 Poverty, exclusion and patriarchy perpetuate HIV&AIDS in India. These phenomena lead to the violation of the rights of People Living with HIV&AIDS (PLHA) and those vulnerable to HIV. It is the poor communities who experience greatest hardship in relation to HIV&AIDS and within poor communities, it is the women and children who suffer the most. HIV&AIDS affects livelihood of families as most deaths occur among young adults who are the mainstay of the workforce. It also threatens social cohesion by scything through the parental generation, leaving behind orphaned children without societal support.
ActionAid believes that programmes designed to end the HIV&AIDS crisis must address the context in which the disease is thriving. Recognising this fact, AA India (AA-I) works in partnership with vulnerable groups which include PLHA, sexuality minorities, people in sex work, trafficked women, migrants, injecting drug users, women, youth, children from excluded and minority communities, persons affected by disasters, and persons with disabilities.
SUBSCRIBE TO OUR NEWSLETTER
* Mandatory fields

My ActionAid page
My ActionAid is an interactive space created exclusively for ActionAid donors to express themselves, to get in touch with us , to be a part of our campaigns and to trace their journey with the ActionAid family!