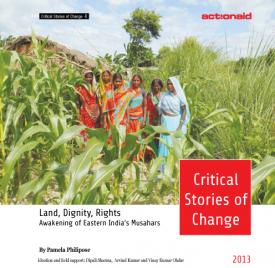 ActionAid is a global movement of people working together to further human rights and defeat poverty for all.
About the Story
This story, the second in our series of "CRITICAL STORIES OF CHANGE", is about 'Musahars', one of the most deprived and disadvantaged of the marginalised communities in Uttar Pradesh and Bihar. Even the nomenclature that the community bears is a stereotype invested with stigma – 'mus-ahar', or 'those who eat rats' – rat meat being regarded as the sustenance of the untouchable.
Predominantly landless, the only source of livelihood for Musahar community has been agricultural labour on the fields of the powerful landed classes.
Absence of any alternative recourse through education or govt. intervention, have made them victims of caste based oppression and exploitation for so many generations that the idea of justice and human dignity themselves, became hazy in their minds.
ActionAid India decided to step in with long-term intervention in 2004, when reports of starvation deaths from the area revealed chronic hunger, apathy and neglect by the administration and the omnipresent terror of the small but powerful elite.
When we started our work, the only thing that bore the stamp of 'government' was the hand pump in the villages, and that too very likely broken down. There were no schools, no roads, no electricity or health centres. With over a decade of intensive work with the communities, it has been very heartening to see emergence and establishment of the two strong community organisations Musahar Vikas Pahal (MVP), and Musahar Vikas Manch ( MVM) that roughly translate as Musahar Development Platform and Musahar Development Initiative in the states of UP and Bihar respectively.
The biggest achievement has been to win over administrative and government support with the help of some earnest and dutiful officers, as much as with persistence and belief in the Human Rights Based Approach that meant citizen's rights and entitlements being non-negotiable. MVP and MVM today work closely with the local administration and have been successful in achieving homestead and agriculture land rights, assets that they now see strongly attached to their sense of self worth and self confidence. Strong women and men community leaders have also been successful in linking the community to various schemes and entitlements like PDS, pension schemes, Indira Awas Yojna etc. The best and brightest indicator of change is to see Musahar children in neat uniforms in schools.
After a decade long work and various ups and downs notwithstanding, we feel vindicated in our belief, in our approach and in the power inherent in even the most oppressed people to make big changes. We hope that this story will be as encouraging and inspiring for the readers, as it has been for us.
Background
Critical stories of change is a series of stories describing the role ActionAid International plays in changing the lives of people living in poverty. But in their openness, self-criticism, detailed analysis and celebration of the active role of others, the stories are far removed from self-congratulatory 'good practice case studies'.
Critical stories of change are full of life, and are intended to impart the insights, advice and confidences of a friend. ActionAid International often makes claims for its work and achievements. Yet, in the struggle to address the causes of poverty and injustice, ActionAid is often one of many players. What ActionAid rarely gets to know is the significant nature of its contribution and the factors (both internal and external) that contributed to the outcomes.