Toll Free No
+180030701070
Settling Grievances for School
Update: 23-November-2017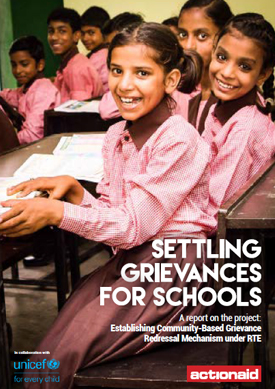 A report on the project: Establishing Community-Based Grievance Redressal Mechanism under RTE
Settling Grievances for Schools unfolds our experiences and learnings of implementing the project – the lesson that the community is the real harbinger of change at both the community level and the school level. We are confident that the success stories emerging from the models implemented and the best practices incorporated in the document will be useful to all people concerned with improving both access to and the quality of education provided in government schools across the country. The success achieved was made possible by the engagement of the SMC and the establishment of grievance redressal mechanisms at community-level and the collaboration of members of the PRI and officials of the education department at the local and State level.
SUBSCRIBE TO OUR NEWSLETTER
* Mandatory fields

My ActionAid page
My ActionAid is an interactive space created exclusively for ActionAid donors to express themselves, to get in touch with us , to be a part of our campaigns and to trace their journey with the ActionAid family!